It's getting harder to find the best telecom stock.
The communication sector is a stable sector akin to the railway industry where the companies operate in an oligopoly. While newcomers are allowed in by leveraging the infrastructure of the big telecoms, they historically have provided a sub-standard service but a lower price.
Over the years, unfortunately for consumers, the smaller competitors have been absorbed by the bigger telecoms. It's similar to the banking sector where the big banks started acquiring the online only banks where you could get a higher interest rate.
Telecom Stocks Selection Criteria
How and why do you pick one provider over another is a big question.
First of all, while your experience with one provider can influence your decision, the big telecoms all have the same love / hate relationship with customers.
I have personally been with all three and I would say the promotion of the day has a big influence on customers – and they know that. They have all the data to assess their customer retention.
Aside from attempting to assess any competitive advantage one company has over the others, below are the questions I ask myself.
What is the ability for the company to provide attractive bundles to consumers? Can the user have more than one service with the provider? How many consumers does it reach? Mobile can reach all provinces but not the bundles.
What's the secondary business for the telecom? Is it owning a sports team? Is it owning TV channels? Is it digital streaming? Is it another business?
Once the business is identified, you can assess the dividend yield & dividend growth you might want as well as the entry point you would like.
| Ticker | Ticker | Company | Market Cap | P/E | Yield | Aristocrat | Graph | SectorID | IndustryID |
| --- | --- | --- | --- | --- | --- | --- | --- | --- | --- |
| BCE | TSE:BCE | BCE | 49.03 | 21.34 | 7.20 | YES | 1 | 2 | 99 |
| T | TSE:T | Telus | 32.67 | 27.69 | 6.35 | YES | 1 | 2 | 99 |
| RCI.B | TSE:RCI.B | Rogers | 29.00 | 18.59 | 3.65 | NO | 1 | 2 | 99 |
| QBR.B | TSE:QBR.B | Quebecor | 6.87 | 11.57 | 4.03 | YES | 1 | 2 | 99 |
| CCA | TSE:CCA | Cogeco Cable | 2.82 | 6.99 | 4.90 | YES | 1 | 2 | 99 |
| CGO | TSE:CGO | Cogeco | 0.68 | 10.03 | 5.99 | YES | 1 | 2 | 99 |
Best Telecom Stocks
BCE has the strongest infrastructure in Canada but Telus is venturing in the health business. If you want a different play on data, think of Brookfield Infrastructure Partners as it is investing in data infrastructure along with being a utility.
Below are your top 3 telecom stocks and biggest players in the wireless segment which generates the majority of their profits.
Rogers has decided to not always increase its dividend and re-invest in the company. That can lead to higher stock performance if their investment pays out.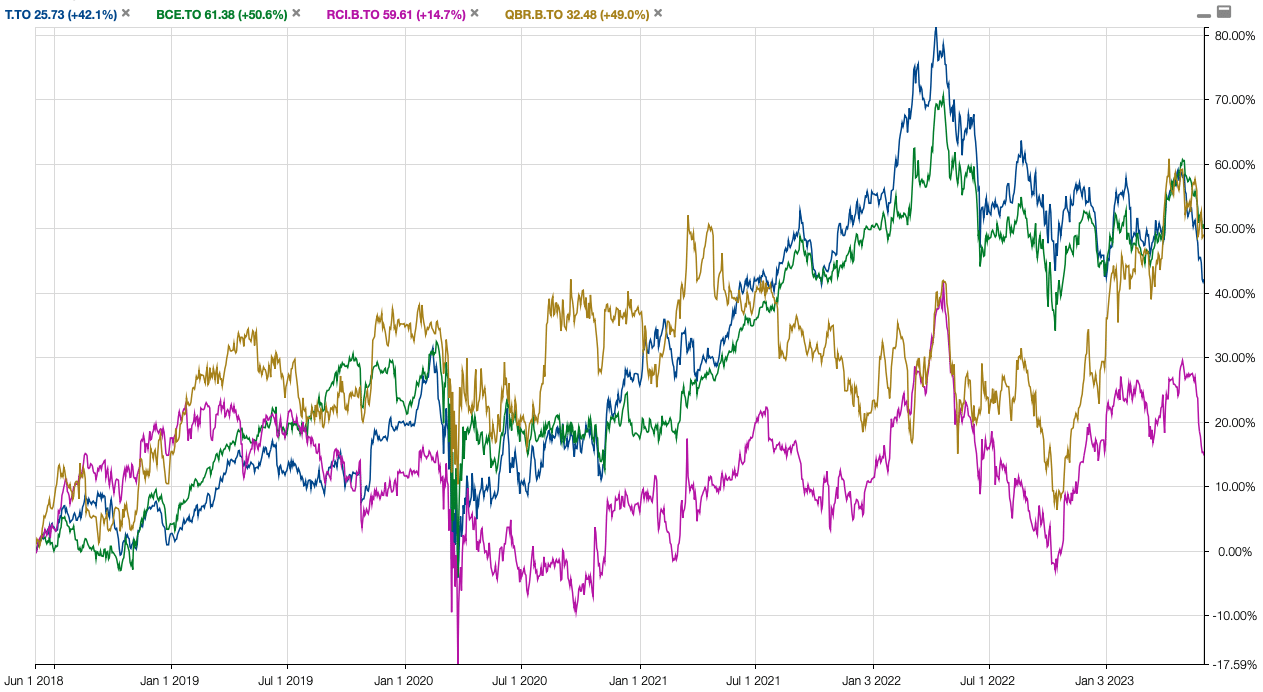 If you are looking for retirement income, stick to Bell. Holding BCE is like holding a bond. If you want a stable holding with growth potential in health and customer support, Telus is your pick. The strategy with Rogers is unclear from my point of view.
As for telecom growth, it's either from acquisitions which is heavily regulated in Canada but not so in the US which gives the advantage Cogeco but as it happens, the Quebec market is dominated by Quebecor and could see more growth from within the province with acquisitions.
Telus remains a top choice for its venture in customer service and telehealth. Your best telecom stock is based on what you need.
Note that to screen stocks for income require unique dividend data. Not many screeners focus on dividend data and dividend stength. You should consider a screener such as Dividend Snaspshot Screeners.
---
TELUS Corporation is the second-largest telecom company in Canada, providing a wide range of communications products and services such as data, IP, voice, television, entertainment, and video. 
The company has ~16 million customer connections, including 10.6 million wireless subscribers, 2.2 million Internet subscribers, 1.2 million residential network access lines, and 1.2 million TELUS TV customers. It is also Canada's largest digital healthcare provider and has been a major telehealth player for over a decade. 
The telecom has a strong presence in the wireless segment which accounts for 55% of total revenue while the wireline segment constitutes the remaining 45%. Nearly 70% of the total earnings is derived from the wireless segment. The wireline segment comprises data, voice, and other services and equipment. 
Key Investment Data
Ticker:

tse:T

Sector: Communication Services
Industry: Telecommunication Services
Market Cap: 32.67B
Market Cap Group: Large Cap
P/E: 27.69
Dividend Yield: 6.35%
Bell Canada Enterprises is Canada's largest telecommunications company. It provides an extensive range of products and solutions for its customers' communication needs. The company owns Canada's largest network of data centers, retail outlets, as well as Bell LTE, Canada's national network.
BCE is a leading residential communications provider offering fiber-based Fibe TV and Fibe Internet, Connected Home services and home phones in seven provinces. It also provides national wireless services, and a wide range of business communications services including data hosting and cloud computing across the country.
Bell Canada caters to a diversified customer base which includes retail consumers, businesses and government customers. Moreover, its multimedia company, Bell Media is Canada's premier media company hosting the No.1 sports channel TSN.
Key Investment Data
Ticker:

tse:BCE

Sector: Communication Services
Industry: Telecommunication Services
Market Cap: 49.03B
Market Cap Group: Large Cap
P/E: 21.34
Dividend Yield: 7.20%
Quebecor is a leading telecommunications, entertainment and media company in Canada. Quebecor's media platforms reach 99% of Quebecers every week and it is a leader in the news media, book publishing, music recording, distribution of cultural products.
Almost 55% of the population in Quebec read Quebecor's newspapers. Quebecor Media Inc. is now a wholly owned subsidiary of Quebecor Inc. Quebecor's brands are popular due to their high-quality and availability on multiplatform in the form of bundled products. Its Videotron brand is a telecommunications and entertainment leader in Canada.
Videotron has been named as Quebec's most respected telecommunications provider for the 13th time in a row, while its TVA Network was the most watched network in Quebec. Quebecor has been investing heavily to boost the capacity and speed of its wireline network over the past five years and has continued to roll out ultra-fast service across its service area.
Key Investment Data
Ticker:

tse:QBR.B

Sector: Communication Services
Industry: Telecommunication Services
Market Cap: 6.87B
Market Cap Group: Mid Cap
P/E: 11.57
Dividend Yield: 4.03%