Looking for the best of the best dividend stocks? The Canadian Dividend Aristocrats list is the perfect place to start.
As you start, you can see the list of stocks (Excel export) to learn more about their yield and dividend payout ratios. One important consideration is to compare within sector and industry in order to compare apples with apples and oranges with oranges.
To be included in the Canadian Dividend Aristocrats list, a Canadian company must match the following criteria.
The company's security is a common stock or income trust listed on the Toronto Stock Exchange and a constituent of the S&P Canada BMI.
The security has increased ordinary cash dividends every year for five years but can maintain the same dividend for a maximum of two consecutive years within that five year period.
The float-adjusted market capitalization of the security, at the time of the review, must be at least C$ 300 million.
For index additions, the company must have increased dividend in the first year of the prior five years of review for dividend growth. This rule does not apply for current index constituents.
The Dividend Aristocrats list can be a good list to start researching investments but the 5-year of dividend growth requirement is unfortunately not a guarantee for dividend stability.
Considering, a one cent dividend growth also qualifies any company, it's important you look a little further to narrow down the list but a good start nonetheless.
DISCLOSURE: Please note that links to merchants mentioned within this post might be using an affiliate link. Using an affiliate link means that, at zero cost to you, I might earn a commission if you buy something through that affiliate link.
Performance of Canadian Dividend Aristocrat Stocks
Are you looking to get average returns from the dividend aristocrats index or to find a gem in a haystack?
This is where it gets interesting. You can purchase the dividend ETF index tracking the Canadian dividend aristocrats to keep it simple. BlackRock offers the ISHARES SP TSX CDN DIVIDEND IDX FD (a.k.a Claymore S&P/TSX Canadian Dividend ETF) exchange-traded fund covering the S&P list. It can be a good choice for some accounts such as your RESP account.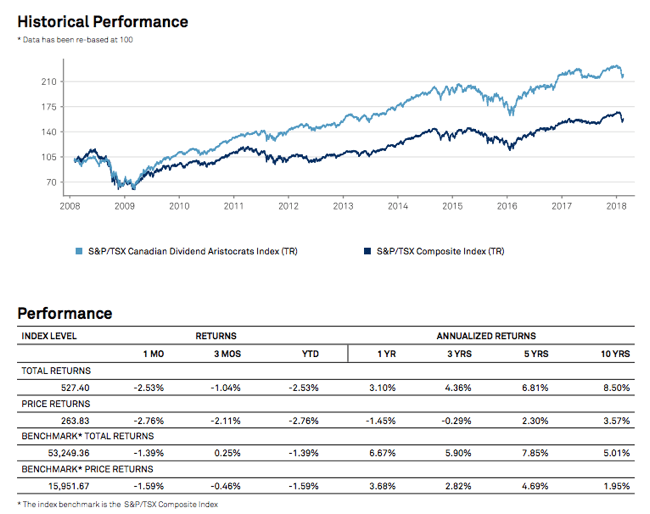 On the other hand, would you really own all of the stocks in your portfolio? Assuming you have some rules on how many stocks you hold, you will want to find the top dividend growth stocks and this list is a great start to finding core blue chip stocks.
Below is the cash distribution from the ETF. As you can see, it's not providing a consistent growth even though all holdings should be increasing their dividends annually.
The capital gains from removals and exposure control come into play when it comes to the fluctuating distribution. Investing in a select group of stocks might be better than buying the ETF as a whole.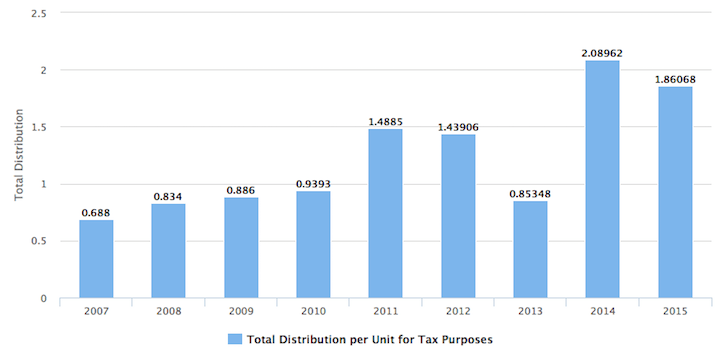 Source: BlackRock CDZ
Canadian Dividend Aristocrats Quarterly Updates
Below are the 87 securities listed in the index as per the rules outlined above. Before you go and agree or not with the index or the rules, indexes are put together to attempt at categorizing certain stocks and investment strategies such as monthly income investing, dividend investing or dividend growth investing. ETFs and mutual funds then use those to put products together to satisfy investor demand.
Have a look at the stock list below, but be sure to check out the Canadian Dividend Achievers as they need 10+ years of consecutive dividend increases.
Historical Updates
September 2021: 1 removal (CHP.UN)
March 2021: 9 additions (AEM, BAD, CJT, CP, ECN, FN, QSR, WPM, X) and 2 removal (OR, RNW).
January 2021: No changes.
November 2020: No changes.
September 2020: LB and MTY were removed.
June 2020: Removal of AD, SU, SES, IPL, and RCH
April 2020: No removal with the addition of CGO, FSZ, GWO, MFI, POW, and QBR.B.
January 2020: No addition or removal.
July 2019: SJR.B and GEI were removed. GS was also removed as it was acquired and 10 more companies were added.
January 2019: ALA was removed after the dividend reduction and ENF was removed as it was acquired by ENB.
September 2018: A couple of stocks were removed and one was acquired. CJR.B and CIX were removed and PJC.A was acquired by MRU.
May 2018: No changes.
February 2018: The following stocks are added; BEI.UN, EQB, TIH, PBH, RNW, PKI, SES, ONEX, and OTEX while the following 9 stocks were removed; FCR, RCI.B, WJA, SCL, IGM, PSI, CMG, NVU.UN, RUS, and ESI.
January 2018: Agrium is removed as the companies merged with Potash to form Nutrien.
September 2017: HCG and AIM were removed since they reduced their dividends.
May 2017: 1 company was removed. Nevsun Resources (TSE:NSU) was removed from the list.
February 2017: 14 companies were added while 1 was removed. Newcomers are: ALA, AP.UN, ARE, BAM.A, BEI.UN, BMO, CAR.UN, FCR, ITP, L, NWC, PPL, STN, and WN. BDT was the company removed from the aristocrat index in the last update.
Up-to-Date Canadian Dividend Aristocrat Constituents
| TickerKey | Ticker | Company | Sector | Industry | Score | Quote | Market Cap | P/E | FPE | EPS | Yield Raw | Payout Ratio Raw | Payments | Dividend | Chowder | GrowthRating | IncomeRating | Tollbooth | Ambassador | Achiever | Aristocrat | King | Country | Graph | SectorID | IndustryID |
| --- | --- | --- | --- | --- | --- | --- | --- | --- | --- | --- | --- | --- | --- | --- | --- | --- | --- | --- | --- | --- | --- | --- | --- | --- | --- | --- |
| TSE:RY | RY | Royal Bank | Financial Services | Banks - Diversified | 59.14 | 128.41 | 183.00 | 12.10 | 12.10 | 10.75 | 3.3600 | 40.7000 | 4 | 4.32 | 10.2200 | 6 | 7 | Tollbooth - Unregulated | NO | YES | YES | NO | Canada | 1 | 7 | 21 |
| TSE:TD | TD | TD Bank | Financial Services | Banks - Diversified | 65.19 | 86.29 | 157.26 | 10.19 | 10.19 | 7.43 | 3.6600 | 37.2000 | 4 | 3.16 | 12.8900 | 7 | 7 | Tollbooth - Unregulated | NO | YES | YES | NO | Canada | 1 | 7 | 21 |
| TSE:BAM.A | BAM.A | Brookfield Asset Management | Financial Services | Asset Management | 47.95 | 70.25 | 110.09 | 31.55 | 31.55 | 2.20 | 0.9200 | 20.5000 | 4 | 0.52 | 8.5000 | 7 | 5 | Tollbooth - Unregulated | NO | NO | YES | NO | Canada | 1 | 7 | 17 |
| TSE:ENB | ENB | Enbridge | Energy | Oil & Gas Midstream | 62.16 | 51.59 | 104.51 | 17.22 | 17.22 | 2.52 | 6.4700 | 110.0000 | 4 | 3.34 | 16.8000 | 6 | 9 | Tollbooth - Unregulated | YES | YES | YES | NO | Canada | 1 | 5 | 71 |
| TSE:CNR | CNR | Canadian National Railway | Industrials | Railroads | 66.56 | 145.83 | 103.24 | 25.88 | 25.88 | 5.53 | 1.6900 | 41.8000 | 4 | 2.46 | 13.3900 | 6 | 7 | Tollbooth - Unregulated | YES | YES | YES | NO | Canada | 1 | 9 | 78 |
| TSE:BNS | BNS | Scotia Bank | Financial Services | Banks - Diversified | 65.23 | 78.37 | 95.23 | 10.95 | 10.95 | 7.24 | 4.5900 | 50.1000 | 4 | 3.60 | 10.2800 | 6 | 7 | Tollbooth - Unregulated | NO | YES | YES | NO | Canada | 1 | 7 | 21 |
| TSE:BMO | BMO | Bank of Montreal | Financial Services | Banks - Diversified | 52.47 | 130.70 | 84.56 | 12.19 | 12.19 | 12.04 | 3.2400 | 39.5000 | 4 | 4.24 | 7.4800 | 5 | 6 | Tollbooth - Unregulated | NO | NO | YES | NO | Canada | 1 | 7 | 21 |
| TSE:TRI | TRI | Thompson Reuters | Industrials | Consulting Services | 52.90 | 141.94 | 70.38 | 8.11 | 8.11 | 2.51 | 1.4200 | 11.2000 | 4 | 1.62 | 3.9800 | 3 | 6 | Intermediate | NO | YES | YES | NO | Canada | 1 | 9 | 30 |
| TSE:CM | CM | CIBC | Financial Services | Banks - Diversified | 59.61 | 146.10 | 65.04 | 11.18 | 11.18 | 13.89 | 4.0000 | 44.6000 | 4 | 5.84 | 8.6300 | 6 | 7 | Tollbooth - Unregulated | NO | YES | YES | NO | Canada | 1 | 7 | 21 |
| TSE:TRP | TRP | TC Energy | Energy | Oil & Gas Midstream | 58.34 | 62.12 | 60.82 | 30.28 | 30.28 | 4.33 | 5.6000 | 165.2000 | 4 | 3.48 | 12.9100 | 6 | 7 | Tollbooth - Unregulated | NO | YES | YES | NO | Canada | 1 | 5 | 71 |
| TSE:CNQ | CNQ | Canadian Natural Resources | Energy | Oil & Gas E&P | 67.26 | 49.62 | 58.79 | 14.42 | 14.42 | 2.28 | 3.7900 | 51.9000 | 4 | 1.88 | 16.8500 | 6 | 7 | Intermediate | YES | YES | YES | NO | Canada | 1 | 5 | 69 |
| TSE:CP | CP | Canadian Pacific Railway | Industrials | Railroads | 54.11 | 86.24 | 57.52 | 17.86 | 17.86 | 3.76 | 0.8800 | 15.6000 | 4 | 0.76 | 13.7900 | 5 | 4 | Tollbooth - Unregulated | NO | NO | YES | NO | Canada | 1 | 9 | 78 |
| TSE:BCE | BCE | BCE | Communication Services | Telecommunication Services | 58.41 | 63.19 | 57.23 | 19.66 | 19.66 | 3.21 | 5.5400 | 113.4000 | 4 | 3.50 | 10.6100 | 5 | 7 | Tollbooth - Regulated | NO | YES | YES | NO | Canada | 1 | 2 | 99 |
| TSE:ATD.B | ATD.B | Alimentation Couche-Tard | Consumer Defensive | Grocery Stores | 77.62 | 47.68 | 51.16 | 15.42 | 15.42 | 3.09 | 0.7300 | 10.5000 | 4 | 0.35 | 28.0100 | 10 | 6 | Consumable - Necessities | YES | YES | YES | NO | Canada | 1 | 4 | 47 |
| TSE:MFC | MFC | Manulife | Financial Services | Insurance - Life | 72.94 | 24.65 | 47.87 | 6.76 | 6.76 | 3.12 | 4.5400 | 30.7000 | 4 | 1.12 | 12.5200 | 7 | 7 | Tollbooth - Unregulated | NO | NO | YES | NO | Canada | 1 | 7 | 55 |
| TSE:SLF | SLF | Sun Life Financial | Financial Services | Insurance - Diversified | 54.11 | 68.50 | 40.12 | 12.13 | 12.13 | 5.86 | 3.2100 | 38.8000 | 4 | 2.20 | 7.5400 | 6 | 5 | Tollbooth - Unregulated | NO | NO | YES | NO | Canada | 1 | 7 | 54 |
| TSE:GWO | GWO | Great West Life | Financial Services | Insurance - Life | 61.29 | 38.86 | 36.13 | 11.18 | 11.18 | 3.22 | 4.5100 | 50.4000 | 4 | 1.75 | 8.1000 | 5 | 6 | Tollbooth - Unregulated | NO | NO | YES | NO | Canada | 1 | 7 | 55 |
| TSE:QSR | QSR | Restaurant Brands International | Consumer Cyclical | Restaurants | 51.20 | 77.59 | 35.93 | 0.00 | 0.00 | 3.21 | 3.4100 | 95.5000 | 4 | 2.12 | 42.0800 | 7 | 4 | Consumable - Discretionary | NO | NO | YES | NO | Canada | 1 | 3 | 87 |
| TSE:T | T | Telus | Communication Services | Telecommunication Services | 67.25 | 27.61 | 35.29 | 29.38 | 29.38 | 1.03 | 4.5800 | 130.5000 | 4 | 1.27 | 11.0900 | 7 | 6 | Tollbooth - Regulated | NO | YES | YES | NO | Canada | 1 | 2 | 99 |
| TSE:NA | NA | National Bank | Financial Services | Banks - Diversified | 56.12 | 100.44 | 33.91 | 12.36 | 12.36 | 8.45 | 2.8300 | 34.6000 | 4 | 2.84 | 9.6700 | 6 | 6 | Tollbooth - Unregulated | NO | YES | YES | NO | Canada | 1 | 7 | 21 |
| TSE:FNV | FNV | Franco-Nevada Corp | Basic Materials | Gold | 52.54 | 169.04 | 32.30 | 37.93 | 37.93 | 4.35 | 0.8800 | 30.5000 | 4 | 1.20 | 5.1000 | 6 | 5 | Intermediate | YES | YES | YES | NO | Canada | 1 | 1 | 46 |
| TSE:MG | MG | Magna International | Consumer Cyclical | Auto Parts | 50.07 | 103.46 | 31.11 | 11.37 | 11.37 | 10.13 | 2.0700 | 23.0000 | 4 | 1.72 | 14.7700 | 3 | 3 | Durable | NO | NO | YES | NO | Canada | 1 | 3 | 19 |
| TSE:L | L | Loblaw | Consumer Defensive | Grocery Stores | 44.64 | 89.96 | 30.84 | 22.94 | 22.94 | 5.04 | 1.6200 | 33.3000 | 4 | 1.46 | 5.9300 | 5 | 5 | Consumable - Necessities | NO | NO | YES | NO | Canada | 1 | 4 | 47 |
| TSE:IMO | IMO | Imperial Oil | Energy | Oil & Gas Integrated | 44.73 | 42.56 | 29.99 | 0.00 | 0.00 | 1.06 | 2.5400 | 0.0000 | 4 | 1.08 | 9.9600 | 5 | 7 | Consumable - Necessities | NO | YES | YES | NO | Canada | 1 | 5 | 70 |
| TSE:IFC | IFC | Intact Financial | Financial Services | Insurance - Property & Casualty | 66.72 | 166.10 | 29.25 | 13.97 | 13.97 | 11.62 | 2.0000 | 31.8000 | 4 | 3.32 | 11.0500 | 8 | 6 | Tollbooth - Unregulated | NO | YES | YES | NO | Canada | 1 | 7 | 56 |
| TSE:POW | POW | Power Corporation | Financial Services | Insurance - Life | 54.48 | 42.56 | 26.48 | 10.79 | 10.79 | 4.25 | 4.2100 | 45.3000 | 4 | 1.79 | 10.8200 | 4 | 4 | Tollbooth - Unregulated | NO | NO | YES | NO | Canada | 1 | 7 | 55 |
| TSE:FTS | FTS | Fortis | Utilities | Utilities - Regulated Electric | 69.08 | 55.76 | 26.27 | 21.18 | 21.18 | 2.66 | 3.8400 | 75.5000 | 4 | 2.14 | 9.4900 | 6 | 7 | Tollbooth - Regulated | NO | YES | YES | NO | Canada | 1 | 12 | 106 |
| TSE:PPL | PPL | Pembina Pipeline | Energy | Oil & Gas Midstream | 58.51 | 41.06 | 22.58 | 0.00 | 0.00 | -0.87 | 6.1400 | 0.0000 | 12 | 2.52 | 11.0500 | 7 | 9 | Tollbooth - Unregulated | NO | NO | YES | NO | Canada | 1 | 5 | 71 |
| TSE:WPM | WPM | Wheaton Precious Metals Corp | Basic Materials | Gold | 49.99 | 47.63 | 21.45 | 26.87 | 26.87 | 1.75 | 1.5700 | 34.7000 | 4 | 0.60 | 9.9400 | 4 | 3 | Intermediate | NO | NO | YES | NO | Canada | 1 | 1 | 46 |
| TSE:WN | WN | George Weston | Consumer Defensive | Grocery Stores | 42.25 | 135.76 | 20.34 | 32.76 | 32.76 | 7.75 | 1.7700 | 51.9000 | 4 | 2.40 | 5.7600 | 5 | 5 | Consumable - Necessities | NO | NO | YES | NO | Canada | 1 | 4 | 47 |
| TSE:DOL | DOL | Dollarama Inc | Consumer Defensive | Discount Stores | 50.60 | 55.76 | 16.99 | 29.08 | 29.08 | 1.92 | 0.3600 | 9.9000 | 4 | 0.20 | 6.6300 | 6 | 6 | Consumable - Discretionary | YES | YES | YES | NO | Canada | 1 | 4 | 34 |
| TSE:OTEX | OTEX | Open Text Corporation | Technology | Software - Application | 60.06 | 61.33 | 16.67 | 42.89 | 42.89 | 4.29 | 1.8000 | 67.8000 | 4 | 0.88 | 15.4300 | 6 | 4 | Subscription | NO | NO | YES | NO | Canada | 1 | 11 | 90 |
| TSE:AEM | AEM | Agnico Eagle Mines | Basic Materials | Gold | 61.86 | 67.29 | 16.40 | 17.33 | 17.33 | 3.58 | 2.5900 | 40.2000 | 4 | 1.40 | 20.6900 | 6 | 5 | Intermediate | NO | NO | YES | NO | Canada | 1 | 1 | 46 |
| TSE:MRU | MRU | Metro | Consumer Defensive | Grocery Stores | 64.54 | 61.46 | 15.03 | 18.73 | 18.73 | 3.40 | 1.6300 | 28.9000 | 4 | 1.00 | 14.4000 | 8 | 6 | Consumable - Necessities | YES | YES | YES | NO | Canada | 1 | 4 | 47 |
| TSE:EMA | EMA | Emera | Utilities | Utilities - Diversified | 66.28 | 57.95 | 14.96 | 23.85 | 23.85 | 2.92 | 4.4000 | 78.6000 | 4 | 2.55 | 9.5600 | 6 | 8 | Tollbooth - Regulated | NO | YES | YES | NO | Canada | 1 | 12 | 104 |
| TSE:SAP | SAP | Saputo | Consumer Defensive | Packaged Foods | 61.49 | 31.28 | 12.94 | 23.97 | 23.97 | 1.45 | 2.3000 | 53.5000 | 4 | 0.72 | 7.4500 | 6 | 6 | Consumable - Necessities | NO | YES | YES | NO | Canada | 1 | 4 | 74 |
| TSE:TFII | TFII | TFI International | Industrials | Trucking | 44.65 | 129.25 | 12.02 | 19.96 | 19.96 | 5.24 | 0.8900 | 14.9000 | 4 | 0.92 | 9.3300 | 3 | 3 | Intermediate | NO | NO | YES | NO | Canada | 1 | 9 | 102 |
| TSE:CCL.B | CCL.B | CCL Industries | Consumer Cyclical | Packaging & Containers | 69.23 | 65.61 | 11.82 | 19.67 | 19.67 | 3.48 | 1.2800 | 23.3000 | 4 | 0.84 | 17.3900 | 8 | 6 | Intermediate | YES | YES | YES | NO | Canada | 1 | 3 | 75 |
| TSE:CTC.A | CTC.A | Canadian Tire Corporation | Consumer Cyclical | Specialty Retail | 67.77 | 182.65 | 11.37 | 9.63 | 9.63 | 19.62 | 2.5700 | 24.2000 | 4 | 4.70 | 19.3000 | 7 | 7 | Consumable - Discretionary | YES | YES | YES | NO | Canada | 1 | 3 | 95 |
| TSE:AQN | AQN | Algonquin Power & Utilitties Corp | Utilities | Utilities - Renewable | 81.68 | 18.10 | 11.21 | 12.91 | 12.91 | 0.89 | 4.7000 | 43.6000 | 4 | 0.68 | 13.7200 | 8 | 8 | Tollbooth - Unregulated | NO | YES | YES | NO | Canada | 1 | 12 | 109 |
| TSE:CAR.UN | CAR.UN | Canadian Apartment Properties REIT | Real Estate | REIT - Residential | 54.52 | 58.60 | 10.20 | 7.54 | 7.54 | 7.77 | 2.4700 | 17.7000 | 12 | 1.45 | 4.9600 | 1 | 247 | Tollbooth - Unregulated | NO | NO | YES | NO | Canada | 1 | 10 | 83 |
| TSE:EMP.A | EMP.A | Empire Co | Consumer Defensive | Grocery Stores | 57.10 | 38.00 | 10.17 | 14.63 | 14.63 | 2.60 | 1.5800 | 20.7000 | 4 | 0.60 | 6.9700 | 5 | 6 | Consumable - Necessities | NO | YES | YES | NO | Canada | 1 | 4 | 47 |
| TSE:FSV | FSV | FirstService Corp | Real Estate | Real Estate Services | 31.44 | 228.88 | 10.04 | 70.80 | 70.80 | 5.22 | 0.4000 | 19.7000 | 4 | 0.73 | 1.9600 | 1 | 2 | Intermediate | NO | NO | YES | NO | Canada | 1 | 10 | 79 |
| TSE:CU | CU | Canadian Utilities | Utilities | Utilities - Diversified | 58.67 | 34.80 | 9.37 | 34.68 | 34.68 | 2.09 | 5.0600 | 198.9000 | 4 | 1.76 | 11.8100 | 5 | 7 | Tollbooth - Regulated | NO | YES | YES | NO | Canada | 1 | 12 | 104 |
| TSE:TIH | TIH | Toromont Industries | Industrials | Industrial Distribution | 65.07 | 107.37 | 8.89 | 29.77 | 29.77 | 3.61 | 1.3000 | 35.2000 | 4 | 1.40 | 14.0700 | 8 | 6 | Intermediate | YES | YES | YES | NO | Canada | 1 | 9 | 52 |
| TSE:RBA | RBA | Ritchie Bros Auctioneers | Industrials | Specialty Business Services | 62.19 | 79.45 | 8.77 | 38.25 | 38.25 | 2.21 | 1.5700 | 52.5000 | 4 | 1.00 | 8.5300 | 7 | 6 | Intermediate | NO | YES | YES | NO | Canada | 1 | 9 | 92 |
| TSE:ONEX | ONEX | ONEX Corporation | Financial Services | Asset Management | 34.42 | 89.81 | 8.07 | 3.91 | 3.91 | 0.00 | 0.4500 | 1.7000 | 4 | 0.40 | 16.3200 | 2 | 2 | Consumable - Discretionary | NO | NO | YES | NO | Canada | 1 | 7 | 17 |
| TSE:IAG | IAG | Industrial Alliance | Financial Services | Insurance - Diversified | 58.41 | 72.60 | 7.81 | 9.82 | 9.82 | 7.51 | 2.6700 | 26.2000 | 4 | 1.94 | 9.7400 | 7 | 6 | Tollbooth - Unregulated | NO | NO | YES | NO | Canada | 1 | 7 | 54 |
| TSE:X | X | TMX Group | Financial Services | Financial Data & Stock Exchanges | 47.44 | 133.45 | 7.49 | 24.14 | 24.14 | 6.61 | 2.3100 | 51.3000 | 4 | 3.08 | 8.1600 | 5 | 4 | Tollbooth - Unregulated | NO | NO | YES | NO | Canada | 1 | 7 | 42 |
| TSE:QBR.B | QBR.B | Quebecor | Communication Services | Telecommunication Services | 58.31 | 30.51 | 7.48 | 14.10 | 14.10 | 2.52 | 3.6100 | 43.0000 | 4 | 1.10 | 26.4100 | 5 | 4 | Tollbooth - Regulated | NO | NO | YES | NO | Canada | 1 | 2 | 99 |
| TSE:KEY | KEY | Keyera Corp | Energy | Oil & Gas Midstream | 52.77 | 31.62 | 6.99 | 56.78 | 56.78 | 0.48 | 6.0700 | 344.8000 | 12 | 1.92 | 11.2500 | 5 | 7 | Tollbooth - Unregulated | NO | YES | YES | NO | Canada | 1 | 5 | 71 |
| TSE:STN | STN | Stantec | Industrials | Engineering & Construction | 59.65 | 60.75 | 6.74 | 35.26 | 35.26 | 2.34 | 1.0900 | 37.3000 | 4 | 0.66 | 8.5200 | 6 | 6 | Durable | NO | NO | YES | NO | Canada | 1 | 9 | 38 |
| TSE:GRT.UN | GRT.UN | Granite REIT | Real Estate | REIT - Industrial | 50.02 | 91.92 | 6.04 | 7.09 | 7.09 | 12.96 | 3.2600 | 21.9000 | 12 | 3.00 | 7.3500 | 1 | 326 | Tollbooth - Unregulated | NO | NO | YES | NO | Canada | 1 | 10 | 81 |
| TSE:PBH | PBH | Premium Brands | Consumer Defensive | Packaged Foods | 48.97 | 133.95 | 5.84 | 52.74 | 52.74 | 3.93 | 1.9000 | 98.3000 | 4 | 2.54 | 8.8800 | 7 | 4 | Consumable - Discretionary | NO | NO | YES | NO | Canada | 1 | 4 | 74 |
| TSE:PKI | PKI | Parkland Corporation | Energy | Oil & Gas Refining & Marketing | 46.18 | 36.93 | 5.61 | 54.81 | 54.81 | 0.67 | 3.3400 | 183.5000 | 12 | 1.24 | 3.3400 | 5 | 5 | Intermediate | NO | NO | YES | NO | Canada | 1 | 5 | 72 |
| TSE:BYD | BYD | Boyd Group Services | Consumer Cyclical | Personal Services | 20.80 | 249.64 | 5.36 | 84.87 | 84.87 | 2.99 | 0.2300 | 18.8000 | 4 | 0.56 | 0.9900 | 2 | 2 | Consumable - Discretionary | NO | NO | YES | NO | Canada | 1 | 3 | 117 |
| TSE:CCA | CCA | Cogeco Cable | Communication Services | Telecommunication Services | 70.29 | 111.37 | 5.26 | 13.51 | 13.51 | 8.25 | 2.3000 | 30.0000 | 4 | 2.56 | 12.7900 | 7 | 6 | Tollbooth - Regulated | YES | YES | YES | NO | Canada | 1 | 2 | 99 |
| TSE:FTT | FTT | Finning Intl | Industrials | Industrial Distribution | 42.46 | 32.69 | 5.24 | 16.55 | 16.55 | 1.66 | 2.7500 | 41.4000 | 4 | 0.90 | 5.2500 | 1 | 4 | Intermediate | NO | NO | YES | NO | Canada | 1 | 9 | 52 |
| TSE:AP.UN | AP.UN | Allied Properties REIT | Real Estate | REIT - Office | 63.76 | 40.68 | 5.18 | 15.67 | 15.67 | 2.60 | 4.1800 | 64.5000 | 12 | 1.70 | 6.4400 | 1 | 418 | Tollbooth - Unregulated | NO | NO | YES | NO | Canada | 1 | 10 | 82 |
| TSE:CPX | CPX | Capital Power Corporation | Utilities | Utilities - Independent Power Producers | 64.47 | 42.04 | 4.87 | 25.05 | 25.05 | 1.74 | 5.2100 | 124.0000 | 4 | 2.19 | 9.8900 | 5 | 7 | Tollbooth - Unregulated | NO | NO | YES | NO | Canada | 1 | 12 | 105 |
| TSE:ACO.X | ACO.X | Atco | Utilities | Utilities - Diversified | 62.96 | 41.30 | 4.72 | 22.02 | 22.02 | 3.28 | 4.3400 | 94.4000 | 4 | 1.79 | 14.2700 | 6 | 7 | Tollbooth - Regulated | YES | YES | YES | NO | Canada | 1 | 12 | 104 |
| TSE:SRU.UN | SRU.UN | SmartCentres REIT | Real Estate | REIT - Retail | 56.83 | 30.26 | 4.38 | 19.72 | 19.72 | 1.53 | 6.1200 | 100.6000 | 12 | 1.85 | 7.9100 | 1 | 612 | Tollbooth - Unregulated | NO | NO | YES | NO | Canada | 1 | 10 | 84 |
| TSE:SMU.UN | SMU.UN | Summit Industrial Income REIT | Real Estate | REIT - Industrial | 33.66 | 21.86 | 3.83 | 4.08 | 4.08 | 5.35 | 2.5800 | 9.9000 | 12 | 0.56 | 0.0000 | 1 | 258 | Tollbooth - Unregulated | NO | NO | YES | NO | Canada | 1 | 10 | 81 |
| TSE:INE | INE | Innergex Renewable Energy | Utilities | Utilities - Renewable | 56.69 | 19.08 | 3.68 | 0.00 | 0.00 | 0.20 | 3.7700 | 0.0000 | 4 | 0.72 | 5.5300 | 5 | 7 | Tollbooth - Unregulated | NO | NO | YES | NO | Canada | 1 | 12 | 109 |
| TSE:BLX | BLX | Boralex | Utilities | Utilities - Renewable | 39.16 | 35.27 | 3.62 | 88.79 | 88.79 | 0.38 | 1.8700 | 165.9000 | 4 | 0.66 | 5.1000 | 4 | 2 | Tollbooth - Unregulated | NO | NO | YES | NO | Canada | 1 | 12 | 109 |
| TSE:CJT | CJT | Cargojet | Industrials | Integrated Freight & Logistics | 38.35 | 195.43 | 3.39 | 99.47 | 99.47 | -1.82 | 0.5300 | 43.6000 | 4 | 1.04 | 7.0500 | 4 | 2 | Consumable - Discretionary | NO | NO | YES | NO | Canada | 1 | 9 | 58 |
| TSE:CWB | CWB | Canadian Western Bank | Financial Services | Banks - Regional | 55.64 | 38.78 | 3.38 | 11.25 | 11.25 | 3.53 | 2.9900 | 33.6000 | 4 | 1.16 | 8.9800 | 6 | 7 | Tollbooth - Unregulated | YES | YES | YES | NO | Canada | 1 | 7 | 22 |
| TSE:MFI | MFI | Maple Leaf Foods | Consumer Defensive | Packaged Foods | 55.82 | 26.81 | 3.33 | 22.64 | 22.64 | 1.01 | 2.6900 | 56.8000 | 4 | 0.72 | 15.9900 | 5 | 4 | Consumable - Discretionary | NO | NO | YES | NO | Canada | 1 | 4 | 74 |
| TSE:GSY | GSY | goeasy | Financial Services | Credit Services | 60.61 | 190.39 | 3.14 | 14.08 | 14.08 | 9.18 | 1.3900 | 16.0000 | 4 | 2.64 | 19.5200 | 7 | 5 | Intermediate | NO | NO | YES | NO | Canada | 1 | 7 | 32 |
| TSE:ENGH | ENGH | Enghouse Systems | Technology | Software - Application | 65.83 | 55.01 | 3.05 | 33.31 | 33.31 | 1.64 | 1.1600 | 125.8000 | 4 | 0.64 | 18.5300 | 8 | 4 | Intermediate | YES | YES | YES | NO | Canada | 1 | 11 | 90 |
| TSE:FN | FN | First National Financial | Financial Services | Mortgage Finance | 44.19 | 45.47 | 2.73 | 11.18 | 11.18 | 4.06 | 5.1700 | 64.8000 | 12 | 2.35 | 5.5800 | 4 | 7 | Tollbooth - Unregulated | NO | NO | YES | NO | Canada | 1 | 7 | 67 |
| TSE:SJ | SJ | Stella-Jones | Basic Materials | Lumber & Wood Production | 70.42 | 41.10 | 2.68 | 9.57 | 9.57 | 4.30 | 1.7500 | 15.8000 | 4 | 0.72 | 12.6400 | 7 | 6 | Intermediate | YES | YES | YES | NO | Canada | 1 | 1 | 62 |
| TSE:CSH.UN | CSH.UN | Chartwell Retirement Residences | Real Estate | REIT - Healthcare Facilities | 41.64 | 11.55 | 2.68 | 0.00 | 0.00 | -0.02 | 5.3000 | 0.0000 | 12 | 0.61 | 4.5600 | 1 | 530 | Tollbooth - Unregulated | NO | NO | YES | NO | Canada | 1 | 10 | 80 |
| TSE:ECN | ECN | ECN Capital | Financial Services | Credit Services | 45.22 | 10.85 | 2.65 | 0.00 | 0.00 | 0.48 | 1.1100 | 103.6000 | 4 | 0.12 | 36.8300 | 8 | 1 | Intermediate | NO | NO | YES | NO | Canada | 1 | 7 | 32 |
| TSE:EQB | EQB | Equitable Group | Financial Services | Mortgage Finance | 62.90 | 151.46 | 2.57 | 9.20 | 9.20 | 16.46 | 0.9800 | 8.9000 | 4 | 1.48 | 14.9500 | 8 | 6 | Tollbooth - Unregulated | YES | YES | YES | NO | Canada | 1 | 7 | 67 |
| TSE:IIP.UN | IIP.UN | InterRent REIT | Real Estate | REIT - Residential | 61.67 | 16.87 | 2.35 | 9.39 | 9.39 | 1.80 | 1.9300 | 17.3000 | 12 | 0.33 | 10.7000 | 1 | 193 | Tollbooth - Unregulated | NO | NO | YES | NO | Canada | 1 | 10 | 83 |
| TSE:CRT.UN | CRT.UN | CT REIT | Real Estate | REIT - Retail | 34.41 | 17.21 | 1.82 | 36.57 | 36.57 | 0.47 | 4.8700 | 51.5000 | 12 | 0.84 | 8.4000 | 1 | 487 | Tollbooth - Unregulated | NO | NO | YES | NO | Canada | 1 | 10 | 84 |
| TSE:EIF | EIF | Exchange Income Fund | Industrials | Airlines | 56.64 | 44.60 | 1.70 | 30.22 | 30.22 | 1.91 | 5.1100 | 151.1000 | 12 | 2.28 | 7.8900 | 6 | 8 | Consumable - Discretionary | NO | YES | YES | NO | Canada | 1 | 9 | 14 |
| TSE:ITP | ITP | Intertape Polymer Group | Consumer Cyclical | Packaging & Containers | 40.60 | 28.30 | 1.68 | 17.51 | 17.51 | 2.65 | 3.0000 | 45.9000 | 4 | 0.68 | 5.2100 | 3 | 3 | Intermediate | NO | NO | YES | NO | Canada | 1 | 3 | 75 |
| TSE:NWC | NWC | The North West Company | Consumer Defensive | Grocery Stores | 54.32 | 33.66 | 1.63 | 11.24 | 11.24 | 3.17 | 4.4000 | 47.2000 | 4 | 1.48 | 4.4000 | 4 | 6 | Consumable - Necessities | NO | NO | YES | NO | Canada | 1 | 4 | 47 |
| TSE:TCL.A | TCL.A | Transcontinental | Industrials | Specialty Business Services | 65.48 | 19.72 | 1.58 | 12.03 | 12.03 | 2.39 | 4.5600 | 54.9000 | 4 | 0.90 | 9.2300 | 5 | 8 | Intermediate | NO | YES | YES | NO | Canada | 1 | 9 | 92 |
| TSE:SIS | SIS | Savaria Corporation | Industrials | Specialty Industrial Machinery | 70.95 | 19.73 | 1.27 | 39.81 | 39.81 | 0.54 | 2.5400 | 97.5000 | 12 | 0.50 | 20.3800 | 7 | 6 | Durable | NO | NO | YES | NO | Canada | 1 | 9 | 94 |
| TSE:CGO | CGO | Cogeco | Communication Services | Telecommunication Services | 71.73 | 87.34 | 1.26 | 10.02 | 10.02 | 9.07 | 2.5000 | 24.0000 | 4 | 2.18 | 14.2900 | 7 | 7 | Tollbooth - Regulated | YES | YES | YES | NO | Canada | 1 | 2 | 99 |
| TSE:BDGI | BDGI | Badger Daylighting | Industrials | Engineering & Construction | 35.70 | 36.34 | 1.26 | 5687.01 | 5,687.01 | 0.00 | 1.7300 | 9403.1000 | 12 | 0.63 | 5.3600 | 4 | 3 | Durable | NO | NO | YES | NO | Canada | 1 | 9 | 38 |
| TSE:ARE | ARE | Aecon Group | Industrials | Engineering & Construction | 57.83 | 19.39 | 1.17 | 13.97 | 13.97 | 1.41 | 3.6100 | 38.5000 | 4 | 0.70 | 12.1900 | 4 | 5 | Durable | NO | NO | YES | NO | Canada | 1 | 9 | 38 |
| TSE:FSZ | FSZ | Fiera Capital Corp | Financial Services | Asset Management | 39.60 | 10.44 | 0.89 | 31.34 | 31.34 | 1.50 | 8.0500 | 221.8000 | 4 | 0.84 | 14.3100 | 5 | 2 | Consumable - Discretionary | NO | NO | YES | NO | Canada | 1 | 7 | 17 |