The S&P500 Dividend Aristocrats is the best list for filtering dividend stocks. This should be your starting point to create your core portfolio. Why should it be part of your core portfolio? It's simple, the companies in the list must have increased their dividends every year for 25 years. Better yet, find one of those stellar aristocrat with a consistent dividend growth rate about 10% and you have a golden goose.
Many of those companies also exhibit consistent growth in value which is what you want along with dividend growth. Dividend investing can be many things and when I started, I looked for high yields but I have since adapted my strategy to look for dividend growth stocks with a double-digit dividend growth history. There are many other reasons why my filtering start with dividend companies, see my post on why I chose dividend investing.
S&P500 US Dividend Aristocrats Requirements
The following criteria must be met to become a S&P500 Dividend Aristocrat:
Universe: Member of the S&P 500
Financial Viability: Must have increased dividends for 25 consecutive years
Size: Have at least 3B$ in market capitalization
Liquidity: Must have an average trading volume of US$ 5 million in the past 6 months
Here are specifics about the list itself:
Reconstitution: The index is reviewed annually
Stock Diversification: At each review, there must be at least 40 companies
Sector Diversification: No more than 30% of a sector weight in the index
Many of the companies you are going to see have increased their dividends for more than 25 years, that's quite a commitment to shareholders. Below is the complete sector breakdown for the aristocrats. You can also buy a dividend aristocrat ETF like NOBL.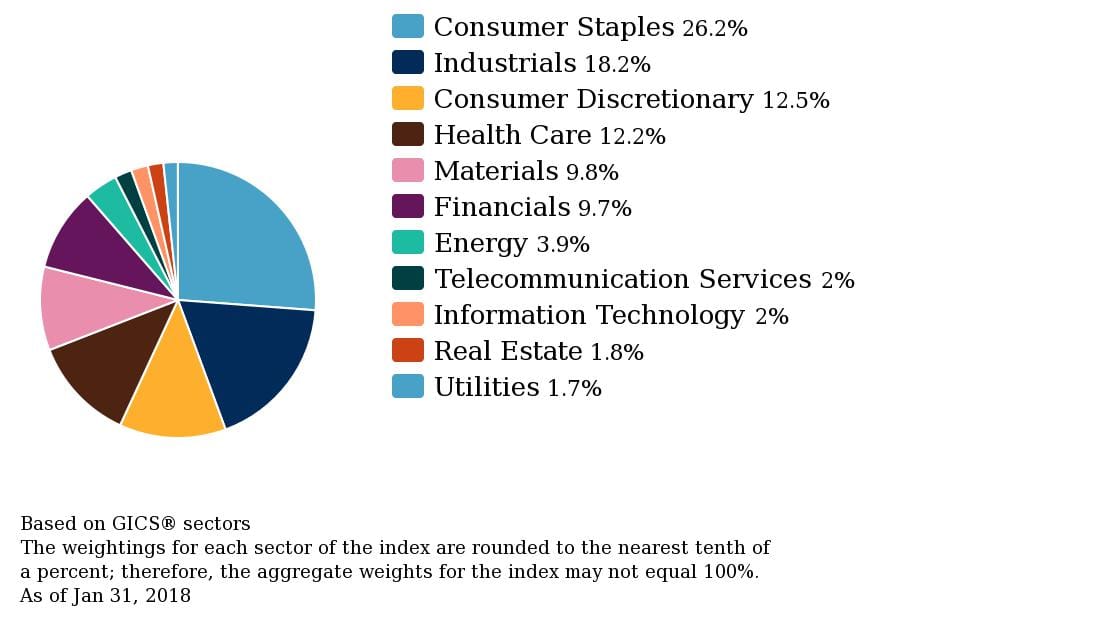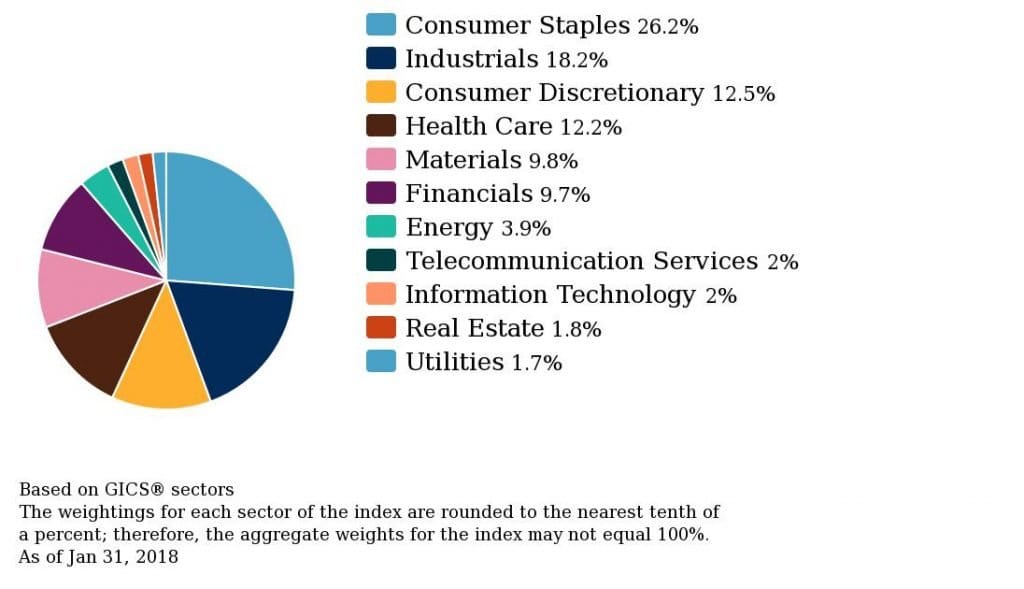 S&P US Dividend Aristocrats List
The constituents are listed below. See the Dividend Ambassadors for the best dividend growth aristocrats as not all dividend aristocrats grow their dividends at the same rate.
Constituents
| TickerKey | Ticker | Company | Sector | Industry | Score | Quote | Market Cap | P/E | FPE | EPS | Yield Raw | Payout Ratio Raw | Payments | Dividend | Chowder | GrowthRating | IncomeRating | Tollbooth | Ambassador | Achiever | Aristocrat | King | Country | Graph | SectorID | IndustryID | Grade | MarketCapGroup |
| --- | --- | --- | --- | --- | --- | --- | --- | --- | --- | --- | --- | --- | --- | --- | --- | --- | --- | --- | --- | --- | --- | --- | --- | --- | --- | --- | --- | --- |
| NYSE:WMT | WMT | Walmart | Consumer Defensive | Discount Stores | 63.06 | 156.06 | 420.05 | 25.91 | 25.91 | 6.55 | 1.4600 | 27.0700 | 4 | 2.28 | 3.3100 | 6 | 7 | Consumable - Discretionary | NO | YES | YES | NO | USA | 1 | 4 | 34 | B | Mega Cap |
| NYSE:XOM | XOM | Exxon Mobile Corp | Energy | Oil & Gas Integrated | 73.32 | 104.57 | 414.40 | 10.40 | 10.40 | 10.44 | 3.6300 | 36.1800 | 4 | 3.80 | 4.7900 | 7 | 8 | Tollbooth - Unregulated | NO | YES | YES | NO | USA | 1 | 5 | 70 | A | Mega Cap |
| NYSE:JNJ | JNJ | Johnson & Johnson | Healthcare | Drug Manufacturers - General | 67.36 | 152.50 | 367.11 | 31.04 | 31.04 | 10.49 | 3.1200 | 91.1000 | 4 | 4.76 | 8.9900 | 7 | 8 | Consumable - Necessities | NO | YES | YES | YES | USA | 1 | 8 | 35 | A | Mega Cap |
| NYSE:PG | PG | Procter & Gamble | Consumer Defensive | Household & Personal Products | 67.10 | 151.38 | 356.79 | 24.61 | 24.61 | 6.16 | 2.4900 | 58.7000 | 4 | 3.76 | 7.8700 | 7 | 7 | Consumable - Necessities | NO | YES | YES | YES | USA | 1 | 4 | 51 | A | Mega Cap |
| NYSE:CVX | CVX | Chevron | Energy | Oil & Gas Integrated | 78.16 | 144.90 | 272.71 | 10.77 | 10.77 | 13.77 | 4.1700 | 44.6100 | 4 | 6.04 | 9.1000 | 8 | 8 | Tollbooth - Unregulated | NO | YES | YES | NO | USA | 1 | 5 | 70 | A | Mega Cap |
| NYSE:KO | KO | Coca-Cola | Consumer Defensive | Beverages - Non-Alcoholic | 64.25 | 58.57 | 253.22 | 23.61 | 23.61 | 2.65 | 3.1400 | 73.0700 | 4 | 1.84 | 6.3700 | 6 | 8 | Consumable - Discretionary | NO | YES | YES | YES | USA | 1 | 4 | 23 | B | Mega Cap |
| NYSE:ABBV | ABBV | AbbVie Inc | Healthcare | Drug Manufacturers - General | 53.73 | 138.67 | 244.83 | 38.04 | 38.04 | 11.92 | 4.4700 | 162.8100 | 4 | 6.20 | 5.3900 | 6 | 5 | Consumable - Necessities | NO | NO | YES | NO | USA | 1 | 8 | 35 | B | Mega Cap |
| NASDAQ:PEP | PEP | Pepsi Co | Consumer Defensive | Beverages - Non-Alcoholic | 70.33 | 169.37 | 232.86 | 28.26 | 28.26 | 7.51 | 2.9900 | 80.6200 | 4 | 5.06 | 9.0700 | 8 | 7 | Consumable - Discretionary | NO | YES | YES | NO | USA | 1 | 4 | 23 | A | Mega Cap |
| NYSE:MCD | MCD | McDonald | Consumer Cyclical | Restaurants | 56.92 | 282.54 | 204.94 | 24.89 | 24.89 | 11.58 | 2.3600 | 53.2400 | 4 | 6.68 | 8.5300 | 6 | 7 | Consumable - Discretionary | NO | YES | YES | NO | USA | 1 | 3 | 87 | B | Mega Cap |
| NYSE:LIN | LIN | Linde Praxair Inc. | Basic Materials | Specialty Chemicals | 51.45 | 414.22 | 200.85 | 36.16 | 36.16 | 13.78 | 1.2300 | 0.0000 | 4 | 5.10 | 9.0700 | 8 | 4 | Intermediate | NO | YES | YES | NO | USA | 1 | 1 | 93 | B | Mega Cap |
| NYSE:ABT | ABT | Abbott Laboratories | Healthcare | Medical Devices | 52.34 | 102.87 | 178.59 | 34.88 | 34.88 | 4.28 | 1.9800 | 68.9300 | 4 | 2.04 | 3.1700 | 5 | 7 | Durable | NO | YES | YES | NO | USA | 1 | 8 | 63 | B | Large Cap |
| NYSE:SPGI | SPGI | S&P Global Inc | Financial Services | Financial Data & Stock Exchanges | 57.76 | 415.10 | 131.50 | 53.74 | 53.74 | 12.02 | 0.8700 | 45.8700 | 4 | 3.60 | 13.3900 | 10 | 5 | Subscription | YES | YES | YES | NO | USA | 1 | 7 | 42 | B | Large Cap |
| NYSE:CAT | CAT | Caterpillar | Industrials | Farm & Heavy Construction Machinery | 68.77 | 247.36 | 126.19 | 14.01 | 14.01 | 20.25 | 2.1000 | 27.6500 | 4 | 5.20 | 7.4600 | 7 | 7 | Durable | NO | YES | YES | NO | USA | 1 | 9 | 40 | A | Large Cap |
| NYSE:T | T | AT&T | Communication Services | Telecommunication Services | 23.02 | 16.21 | 115.90 | 0.00 | 0.00 | 2.48 | 6.8500 | 0.0000 | 4 | 1.11 | 0.4300 | 0 | 4 | Tollbooth - Unregulated | NO | YES | YES | NO | USA | 1 | 2 | 99 | D | Large Cap |
| NYSE:LOW | LOW | Lowe's Companies, Inc. | Consumer Cyclical | Home Improvement Retail | 81.27 | 199.07 | 114.89 | 15.33 | 15.33 | 13.57 | 2.2100 | 24.8500 | 4 | 4.40 | 20.7600 | 10 | 7 | Consumable - Discretionary | YES | YES | YES | YES | USA | 1 | 3 | 50 | A+ | Large Cap |
| NYSE:MDT | MDT | Medtronics | Healthcare | Medical Devices | 61.76 | 78.97 | 105.07 | 29.06 | 29.06 | 5.32 | 3.4900 | 100.3300 | 4 | 2.76 | 12.6900 | 8 | 5 | Durable | YES | YES | YES | NO | USA | 1 | 8 | 63 | B | Large Cap |
| NASDAQ:ADP | ADP | Automatic Data Processing | Industrials | Staffing & Employment Services | 68.03 | 230.66 | 94.87 | 27.40 | 27.40 | 8.45 | 2.4300 | 59.4400 | 4 | 5.60 | 13.3800 | 8 | 7 | Tollbooth - Unregulated | YES | YES | YES | NO | USA | 1 | 9 | 96 | A | Large Cap |
| NYSE:CB | CB | Chubb Corporation | Financial Services | Insurance - Property & Casualty | 58.55 | 227.04 | 92.63 | 13.42 | 13.42 | 18.33 | 1.5200 | 19.8200 | 4 | 3.44 | 4.6500 | 7 | 7 | Tollbooth - Unregulated | NO | YES | YES | NO | USA | 1 | 7 | 56 | B | Large Cap |
| NYSE:ITW | ITW | Illinois Tool Works | Industrials | Specialty Industrial Machinery | 74.34 | 241.85 | 72.77 | 23.47 | 23.47 | 10.31 | 2.3200 | 51.3500 | 4 | 5.60 | 9.2300 | 9 | 7 | Intermediate | YES | YES | YES | NO | USA | 1 | 9 | 94 | A | Large Cap |
| NYSE:SHW | SHW | The Sherwin-Williams Company | Basic Materials | Specialty Chemicals | 59.91 | 275.83 | 70.60 | 29.55 | 29.55 | 10.42 | 0.8800 | 25.8000 | 4 | 2.42 | 17.0700 | 9 | 5 | Intermediate | YES | YES | YES | NO | USA | 1 | 1 | 93 | B | Large Cap |
| NYSE:BDX | BDX | Becton Dickinson & Co | Healthcare | Medical Instruments & Supplies | 61.91 | 238.89 | 69.37 | 46.65 | 46.65 | 12.22 | 1.5900 | 71.1600 | 4 | 3.80 | 5.4000 | 7 | 7 | Durable | NO | YES | YES | NO | USA | 1 | 8 | 65 | B | Large Cap |
| NYSE:GD | GD | General Dynamics Corporation | Industrials | Aerospace & Defense | 60.57 | 247.83 | 67.63 | 20.72 | 20.72 | 11.96 | 2.1300 | 43.4300 | 4 | 5.28 | 8.9300 | 7 | 6 | Durable | NO | YES | YES | NO | USA | 1 | 9 | 13 | B | Large Cap |
| NYSE:CL | CL | Colgate-Palmolive | Consumer Defensive | Household & Personal Products | 49.76 | 77.31 | 63.65 | 40.43 | 40.43 | 3.13 | 2.4800 | 99.8100 | 4 | 1.92 | 5.3300 | 6 | 6 | Consumable - Necessities | NO | YES | YES | YES | USA | 1 | 4 | 51 | C | Large Cap |
| NYSE:APD | APD | Air Products & Chemicals | Basic Materials | Chemicals | 75.55 | 274.50 | 61.00 | 26.66 | 26.66 | 11.51 | 2.5500 | 66.5600 | 4 | 7.00 | 13.8100 | 9 | 6 | Intermediate | YES | YES | YES | NO | USA | 1 | 1 | 26 | A | Large Cap |
| NYSE:TGT | TGT | Target | Consumer Defensive | Discount Stores | 76.70 | 131.46 | 60.69 | 16.75 | 16.75 | 7.84 | 3.3500 | 56.0800 | 4 | 4.40 | 14.6300 | 10 | 6 | Consumable - Discretionary | YES | YES | YES | NO | USA | 1 | 4 | 34 | A | Large Cap |
| NASDAQ:CTAS | CTAS | Cintas Corp | Industrials | Specialty Business Services | 56.37 | 554.90 | 56.52 | 41.73 | 41.73 | 13.29 | 0.9700 | 35.6600 | 4 | 5.40 | 23.7400 | 9 | 5 | Tollbooth - Unregulated | YES | YES | YES | NO | USA | 1 | 9 | 92 | B | Large Cap |
| NYSE:ROP | ROP | Roper Technologies, Inc. | Industrials | Specialty Industrial Machinery | 50.64 | 525.59 | 56.14 | 45.52 | 45.52 | 16.26 | 0.5700 | 23.4900 | 4 | 3.00 | 10.8300 | 8 | 5 | Intermediate | YES | YES | YES | NO | USA | 1 | 9 | 94 | B | Large Cap |
| NYSE:ECL | ECL | Ecolab Inc. | Basic Materials | Specialty Chemicals | 45.01 | 187.24 | 53.39 | 43.52 | 43.52 | 4.93 | 1.1300 | 49.0300 | 4 | 2.12 | 4.7800 | 6 | 6 | Intermediate | NO | YES | YES | NO | USA | 1 | 1 | 93 | C | Large Cap |
| NYSE:MMM | MMM | 3M | Industrials | Specialty Industrial Machinery | 50.77 | 95.95 | 52.99 | 0.00 | 0.00 | 9.10 | 6.2500 | 0.0000 | 4 | 6.00 | 7.4000 | 7 | 7 | Consumable - Discretionary | NO | YES | YES | YES | USA | 1 | 9 | 94 | B | Large Cap |
| NYSE:EMR | EMR | Emerson Electric | Industrials | Specialty Industrial Machinery | 54.21 | 88.51 | 50.46 | 23.76 | 23.76 | 4.41 | 2.3700 | 56.0100 | 4 | 2.10 | 3.8400 | 4 | 6 | Intermediate | NO | YES | YES | YES | USA | 1 | 9 | 94 | B | Large Cap |
| NYSE:AFL | AFL | Aflac | Financial Services | Insurance - Life | 60.01 | 82.94 | 48.47 | 10.93 | 10.93 | 6.41 | 2.0300 | 21.9800 | 4 | 1.68 | 11.1200 | 7 | 6 | Tollbooth - Unregulated | NO | YES | YES | NO | USA | 1 | 7 | 55 | B | Large Cap |
| NYSE:KMB | KMB | Kimberley-Clark | Consumer Defensive | Household & Personal Products | 59.20 | 122.43 | 41.37 | 23.53 | 23.53 | 6.60 | 3.8600 | 90.1200 | 4 | 4.72 | 7.5000 | 6 | 7 | Consumable - Necessities | NO | YES | YES | NO | USA | 1 | 4 | 51 | B | Large Cap |
| NYSE:GWW | GWW | W.W. Grainger, Inc. | Industrials | Industrial Distribution | 56.57 | 812.30 | 40.32 | 22.50 | 22.50 | 35.46 | 0.9200 | 19.8600 | 4 | 7.44 | 6.9400 | 7 | 7 | Intermediate | NO | YES | YES | NO | USA | 1 | 9 | 52 | B | Large Cap |
| NYSE:ADM | ADM | Archer-Daniels-Midland Co | Consumer Defensive | Farm Products | 72.52 | 74.30 | 39.63 | 10.35 | 10.35 | 7.54 | 2.4200 | 24.3800 | 4 | 1.80 | 6.9700 | 8 | 7 | Consumable - Necessities | NO | YES | YES | NO | USA | 1 | 4 | 41 | A | Large Cap |
| NYSE:O | O | Realty Income Corporation | Real Estate | REIT - Retail | 63.92 | 53.91 | 39.03 | 40.92 | 40.92 | 1.32 | 5.7000 | 232.4200 | 12 | 3.07 | 8.6300 | 8 | 6 | Tollbooth - Unregulated | NO | YES | YES | NO | USA | 1 | 10 | 84 | B | Large Cap |
| NYSE:NUE | NUE | Nucor Corporation | Basic Materials | Steel | 61.55 | 157.16 | 38.64 | 7.94 | 7.94 | 19.72 | 1.3000 | 10.3400 | 4 | 2.04 | 4.5300 | 6 | 7 | Intermediate | NO | YES | YES | NO | USA | 1 | 1 | 97 | B | Large Cap |
| NYSE:SYY | SYY | Sysco Corporation | Consumer Defensive | Food Distribution | 65.31 | 72.15 | 36.38 | 20.29 | 20.29 | 4.11 | 2.7700 | 55.5400 | 4 | 2.00 | 8.8900 | 7 | 6 | Consumable - Discretionary | NO | YES | YES | NO | USA | 1 | 4 | 43 | A | Large Cap |
| NYSE:PPG | PPG | PPG Industries, Inc. | Basic Materials | Specialty Chemicals | 58.98 | 136.45 | 32.17 | 22.82 | 22.82 | 7.36 | 1.9100 | 41.6800 | 4 | 2.60 | 8.8200 | 7 | 6 | Intermediate | NO | YES | YES | NO | USA | 1 | 1 | 93 | B | Large Cap |
| NYSE:ED | ED | Consolidated Edison Inc | Utilities | Utilities - Regulated Electric | 69.64 | 90.96 | 31.40 | 13.48 | 13.48 | 4.87 | 3.5600 | 47.5400 | 4 | 3.24 | 5.7700 | 6 | 8 | Tollbooth - Unregulated | NO | YES | YES | NO | USA | 1 | 12 | 106 | A | Large Cap |
| NYSE:BF.B | BF.B | Brown-Forman Corporation | Consumer Defensive | Beverages - Wineries & Distilleries | 59.75 | 59.75 | 28.92 | 37.53 | 37.53 | 1.63 | 1.3800 | 51.6300 | 4 | 0.82 | 7.2800 | 8 | 5 | Consumable - Discretionary | NO | YES | YES | NO | USA | 1 | 4 | 24 | B | Large Cap |
| NYSE:CAH | CAH | Cardinal Health Inc | Healthcare | Medical Distribution | 38.78 | 106.27 | 26.19 | 174.74 | 174.74 | 6.34 | 1.8800 | 326.2800 | 4 | 2.00 | 3.0700 | 6 | 4 | Intermediate | NO | YES | YES | NO | USA | 1 | 8 | 64 | D | Large Cap |
| NASDAQ:TROW | TROW | T. Rowe Price Group, Inc. | Financial Services | Asset Management | 75.37 | 98.28 | 21.96 | 14.01 | 14.01 | 7.62 | 4.9700 | 70.8000 | 4 | 4.88 | 18.4100 | 9 | 7 | Tollbooth - Unregulated | YES | YES | YES | NO | USA | 1 | 7 | 17 | A | Large Cap |
| NYSE:DOV | DOV | Dover Corp | Industrials | Specialty Industrial Machinery | 52.96 | 139.69 | 19.54 | 19.20 | 19.20 | 8.50 | 1.4600 | 27.7100 | 4 | 2.04 | 2.6500 | 5 | 7 | Intermediate | NO | YES | YES | YES | USA | 1 | 9 | 94 | B | Large Cap |
| NYSE:GPC | GPC | Genuine Parts | Consumer Cyclical | Specialty Retail | 70.72 | 137.40 | 19.26 | 15.53 | 15.53 | 9.12 | 2.7700 | 42.0800 | 4 | 3.80 | 8.2500 | 8 | 8 | Consumable - Discretionary | NO | YES | YES | YES | USA | 1 | 3 | 95 | A | Large Cap |
| NASDAQ:WBA | WBA | Walgreens Boots Alliance, Inc. | Healthcare | Pharmaceutical Retailers | 46.65 | 20.85 | 18.01 | 0.00 | 0.00 | 3.99 | 9.2100 | 0.0000 | 4 | 1.92 | 11.6600 | 7 | 5 | Consumable - Necessities | NO | YES | YES | NO | USA | 1 | 8 | 77 | C | Large Cap |
| NYSE:HRL | HRL | Hormel Foods Corporation | Consumer Defensive | Packaged Foods | 80.38 | 32.72 | 17.88 | 20.49 | 20.49 | 1.71 | 3.3600 | 67.6300 | 4 | 1.10 | 10.7400 | 10 | 6 | Consumable - Discretionary | YES | YES | YES | YES | USA | 1 | 4 | 74 | A+ | Large Cap |
| NYSE:MKC | MKC | McCormick & Company, Incorporated | Consumer Defensive | Packaged Foods | 68.77 | 66.44 | 17.85 | 27.71 | 27.71 | 2.57 | 2.3500 | 63.8600 | 4 | 1.56 | 11.5900 | 9 | 6 | Consumable - Discretionary | NO | YES | YES | NO | USA | 1 | 4 | 74 | A | Large Cap |
| NYSE:CLX | CLX | Clorox CO | Consumer Defensive | Household & Personal Products | 53.38 | 141.19 | 17.52 | 212.88 | 212.88 | 4.65 | 3.4000 | 688.3700 | 4 | 4.80 | 10.2200 | 8 | 5 | Consumable - Necessities | NO | YES | YES | NO | USA | 1 | 4 | 51 | B | Large Cap |
| NASDAQ:EXPD | EXPD | Expeditors International of Washington Inc. | Industrials | Integrated Freight & Logistics | 71.89 | 118.13 | 17.17 | 22.32 | 22.32 | 5.37 | 1.1700 | 25.3600 | 2 | 1.38 | 10.2900 | 9 | 6 | Consumable - Discretionary | NO | YES | YES | NO | USA | 1 | 9 | 58 | A | Large Cap |
| NASDAQ:CINF | CINF | Cincinnati Financial Corp | Financial Services | Insurance - Property & Casualty | 63.62 | 102.68 | 16.11 | 9.68 | 9.68 | 5.03 | 2.9200 | 27.5600 | 4 | 3.00 | 8.3900 | 5 | 8 | Tollbooth - Unregulated | NO | YES | YES | YES | USA | 1 | 7 | 56 | B | Large Cap |
| NYSE:SWK | SWK | Stanley Black & Decker, Inc. | Industrials | Tools & Accessories | 48.84 | 91.41 | 14.01 | 0.00 | 0.00 | 0.43 | 3.5400 | 0.0000 | 4 | 3.24 | 10.3900 | 7 | 5 | Consumable - Discretionary | NO | YES | YES | YES | USA | 1 | 9 | 101 | C | Large Cap |
| NYSE:ESS | ESS | Essex Property Trust Inc. | Real Estate | REIT - Residential | 61.63 | 214.72 | 13.78 | 26.33 | 26.33 | 8.15 | 4.3000 | 113.7700 | 4 | 9.24 | 8.4100 | 7 | 5 | Tollbooth - Unregulated | NO | YES | YES | NO | USA | 1 | 10 | 83 | B | Large Cap |
| NYSE:BEN | BEN | Franklin Resources, Inc. | Financial Services | Asset Management | 77.71 | 23.82 | 11.78 | 13.84 | 13.84 | 2.59 | 5.0400 | 72.3600 | 4 | 1.20 | 9.0400 | 9 | 7 | Tollbooth - Unregulated | YES | YES | YES | NO | USA | 1 | 7 | 17 | A | Large Cap |
| NYSE:AOS | AOS | AO Smith Corp. | Industrials | Specialty Industrial Machinery | 60.26 | 76.01 | 11.30 | 38.43 | 38.43 | 3.71 | 1.6800 | 60.7600 | 4 | 1.28 | 9.8800 | 9 | 6 | Durable | YES | YES | YES | NO | USA | 1 | 9 | 94 | B | Large Cap |
| NYSE:PNR | PNR | Pentair | Industrials | Specialty Industrial Machinery | 43.23 | 63.22 | 10.45 | 20.53 | 20.53 | 3.70 | 1.3900 | 28.4500 | 4 | 0.88 | 0.0000 | 3 | 4 | Intermediate | NO | NO | YES | NO | USA | 1 | 9 | 94 | C | Large Cap |
| NASDAQ:PBCT | PBCT | People's United Financial Inc. | Financial Services | Banks - Regional | 62.14 | 21.63 | 9.29 | 14.71 | 14.71 | 1.47 | 3.3700 | 52.1000 | 4 | 0.73 | 4.9000 | 6 | 8 | Tollbooth - Unregulated | NO | YES | YES | NO | USA | 1 | 7 | 22 | B | Mid Cap |
| NYSE:FRT | FRT | Federal Realty Investment Trust | Real Estate | REIT - Retail | 48.03 | 92.11 | 7.52 | 26.85 | 26.85 | 3.44 | 4.7300 | 126.4000 | 4 | 4.36 | 6.0100 | 3 | 3 | Tollbooth - Unregulated | NO | YES | YES | YES | USA | 1 | 10 | 84 | C | Mid Cap |
| NYSE:VFC | VFC | V.F. Corporation | Consumer Cyclical | Apparel Manufacturing | 29.60 | 16.59 | 6.45 | 0.00 | 0.00 | 1.77 | 2.1700 | 0.0000 | 4 | 0.36 | 3.3600 | 3 | 1 | Consumable - Discretionary | NO | YES | YES | NO | USA | 1 | 3 | 15 | D | Mid Cap |
| NYSE:LEG | LEG | Leggett & Platt | Consumer Cyclical | Furnishings, Fixtures & Appliances | 60.26 | 23.34 | 3.11 | 14.93 | 14.93 | 1.52 | 7.8800 | 114.8600 | 4 | 1.84 | 12.5800 | 7 | 5 | Consumable - Discretionary | NO | YES | YES | NO | USA | 1 | 3 | 45 | B | Mid Cap |