Many investors like to have a process that simplifies the chaos of the stock markets. To that end, indexes and stock lists are created by financial institutions based on pre-determine set of criteria to satisfy the demand for investors.
For example, there is a Canadian Dividend Aristocrats list or a BMO Monthly Income Fund. There are other lists but none as refined as what you are about to read.
As it happens, a DIY dividend investor, like myself, works outside of those lists by establishing a more rigorous process to select the next dividend growth stocks as an investing short list.
The Dividend Aristocrats, on both side of the border, were an initial step in my dividend investing journey but I have since established a more rigorous set of criteria helping me narrow down a strong set of companies to surface the best dividend growth stocks.
I have put a comprehensive list of Canadian dividend growth stocks with many important key dividend metrics with the Dividend Snapshot Screeners to help investors with their investing decisions.
However, one key discussion point I regularly have around the Canadian Dividend Aristocrats is on how poor the criteria really are for including a stock in the list. Investors use those lists to filter out stocks. It's an important process to go from 1,000 companies to less than 100 but I don't think it's enough.
While you can break it down by sector or industry, you want to filter out the great businesses from the others. You also want to filter out the companies that match a simple criteria of increasing dividend every year by 1 cent. Where is the growth in that for a dividend growth investor?
Since 2009, I have been working on my criteria for selecting stocks and while I usually select 90% of my holdings using the Dividend Ambassadors strategy the technology sector has usually thrown in a curve ball where instinct comes in.
My Favortite Dividend Growth Stocks
Note that you need access to unique dividend data to screen dividend stocks. Not many screeners focus on dividend data. You should consider a screener such as Dividend Snaspshot Screeners.
Alimentation Couche-Tard is one of the largest Canadian companies and the owner of several Canadian convenience stores. The company also supplies road transportation fuel to approximately 1,300 locations in the U.S. and offers stationary energy and aviation fuel.
As a leading independent convenience store operator, Couche-Tard owns a network of nearly 10,000 convenience stores in 48 states in the U.S., ten provinces in Canada, as well as other countries.
It operates more than 16,000 stores worldwide. By geography, the US is its largest market accounting for 67% of 2018 revenues, followed by Europe (20%) and Canada (13%). The company operates through Couche-Tard and Mac's brands in Canada and Circle K globally.
Key Investment Data
Ticker:

TSE:atd

Sector: Consumer Defensive
Industry: Grocery Stores
Market Cap: 66.41B
Market Cap Group: Large Cap
P/E: 17.81
Dividend Yield: 0.83%
Canadian National Railway is a leading transportation and logistics company in North America. The company owns the only transcontinental railway line in North America and provides intermodal, trucking, freight forwarding, warehousing and distribution services.
As North America's leading supply chain player, Canadian National Railway carries more than 300 million tons of cargo annually. It is a fully integrated rail and transportation services company and is the top mover of aluminum, iron ore and base metal ore in North America.
Canadian National handles over 50% of all Canadian chemicals production and services the three major petrochemical centers in North America. Its product portfolio is well diversified with intermodal accounting for 25% of revenues, followed by petroleum & chemicals, and grains & fertilizers each at 17%. Forest products, metal, minerals, automotives, etc. constitute the remainder.
Key Investment Data
Ticker:

TSE:cnr

Sector: Industrials
Industry: Railroads
Market Cap: 106.58B
Market Cap Group: Large Cap
P/E: 19.84
Dividend Yield: 2.00%
Dividend Ambassadors – Best Dividend Growth Stocks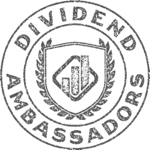 I would like to introduce the Dividend Ambassadors where a stock needs to meet the following 2 simple criteria to surface the best dividend growth stocks:
Have increased their dividends for 10 consecutive years. It guarantees the company can go through a full economic cycle and maintain profitability and growth.
Have grown their dividend by 10% on average over the past 10 years. It guarantees the company continues to be profitable, manage cost and still provide a meaningful return to shareholders.
Once a stock matches the criteria, it earns the stamp of honour. It is actually quite an achievement to make it part of this list so take note of these blue chip stocks.
Canadian Dividend Ambassadors
| Ticker | Company | Sector | Market Cap | P/E | Graph |
| --- | --- | --- | --- | --- | --- |
| CNR | Canadian National Railway | Industrials | 106.58 | 19.84 | 1 |
| ENB | Enbridge | Energy | 101.76 | 42.62 | 1 |
| CNQ | Canadian Natural Resources | Energy | 83.35 | 8.89 | 1 |
| ATD | Alimentation Couche-Tard | Consumer Defensive | 66.41 | 17.81 | 1 |
| WCN | Waste Connections | Industrials | 48.23 | 42.17 | 1 |
| FNV | Franco-Nevada Corp | Basic Materials | 38.05 | 41.99 | 1 |
| DOL | Dollarama Inc | Consumer Defensive | 23.83 | 30.24 | 1 |
| MRU | Metro | Consumer Defensive | 16.73 | 19.20 | 1 |
| CCL.B | CCL Industries | Consumer Cyclical | 11.20 | 17.68 | 1 |
| CTC.A | Canadian Tire Corporation | Consumer Cyclical | 10.01 | 11.37 | 1 |
| STN | Stantec | Industrials | 9.03 | 33.79 | 1 |
| TIH | Toromont Industries | Industrials | 8.92 | 18.31 | 1 |
| GRT.UN | Granite REIT | Real Estate | 5.34 | 0.00 | 1 |
| ACO.X | Atco | Utilities | 4.75 | 11.67 | 1 |
| SJ | Stella-Jones | Basic Materials | 3.58 | 14.58 | 1 |
| CCA | Cogeco Cable | Communication Services | 2.89 | 7.18 | 1 |
| EQB | Equitable Group | Financial Services | 2.55 | 8.91 | 1 |
| ENGH | Enghouse Systems | Technology | 2.08 | 23.28 | 1 |
| IIP.UN | InterRent REIT | Real Estate | 1.91 | 21.11 | 1 |
| CGO | Cogeco | Communication Services | 0.75 | 5.64 | 1 |
| ADEN | ADENTRA | Industrials | 0.65 | 5.38 | 1 |
| HDI | Hardwoods Distribution | Industrials | 0.62 | 3.20 | 1 |
| TCS | Tecsys | Technology | 0.37 | 89.36 | 1 |
| XTC | Exco Technologies | Consumer Cyclical | 0.30 | 13.71 | 1 |
US Dividend Ambassadors
| Ticker | Company | Sector | Market Cap | P/E | Graph |
| --- | --- | --- | --- | --- | --- |
| MSFT | Microsoft | Technology | 2,493.86 | 35.87 | 1 |
| V | Visa | Financial Services | 468.82 | 27.97 | 1 |
| UNH | UnitedHealth Group Incorporated | Healthcare | 465.12 | 21.76 | 1 |
| JPM | JP Morgan Chase | Financial Services | 410.49 | 10.03 | 1 |
| MA | Master Card | Financial Services | 354.16 | 34.96 | 1 |
| HD | Home Depot Inc. | Consumer Cyclical | 297.53 | 18.03 | 1 |
| COST | Costco | Consumer Defensive | 227.19 | 37.89 | 1 |
| ACN | Accenture plc | Technology | 196.65 | 27.53 | 1 |
| NKE | NIKE, Inc. | Consumer Cyclical | 165.66 | 31.06 | 1 |
| CMCSA | Comcast Corporation | Communication Services | 163.38 | 10.56 | 1 |
| TXN | Texas Instrument | Technology | 159.05 | 19.73 | 1 |
| NEE | NextEra Energy, Inc. | Utilities | 149.43 | 24.53 | 1 |
| HON | Honeywell International Inc. | Industrials | 132.32 | 22.24 | 1 |
| QCOM | Qualcomm | Technology | 128.80 | 10.90 | 1 |
| LOW | Lowe's Companies, Inc. | Consumer Cyclical | 124.21 | 15.11 | 1 |
| UNP | Union Pacific Corp. | Industrials | 121.12 | 17.34 | 1 |
| SPGI | S&P Global Inc | Financial Services | 120.63 | 32.90 | 1 |
| LMT | Lockheed Martin Corporation | Industrials | 115.68 | 20.77 | 1 |
| SBUX | Starbucks Corporation | Consumer Cyclical | 114.07 | 31.69 | 1 |
| MDT | Medtronics | Healthcare | 111.47 | 15.80 | 1 |
| GS | Goldman Sachs Group Inc. | Financial Services | 107.60 | 11.10 | 1 |
| SYK | Stryker Corporation | Healthcare | 105.64 | 29.26 | 1 |
| BLK | BlackRock | Financial Services | 102.12 | 20.19 | 1 |
| ADI | Analog Devices, Inc. | Technology | 90.16 | 16.60 | 1 |
| ADP | Automatic Data Processing | Industrials | 89.45 | 27.62 | 1 |
| ITW | Illinois Tool Works | Industrials | 69.65 | 22.92 | 1 |
| NOC | Northrop Grumman Corporation | Industrials | 67.40 | 17.56 | 1 |
| CME | CME Group Inc. | Financial Services | 66.66 | 22.35 | 1 |
| CSX | CSX | Industrials | 64.90 | 15.96 | 1 |
| APD | Air Products & Chemicals | Basic Materials | 62.43 | 25.81 | 1 |
| SHW | The Sherwin-Williams Company | Basic Materials | 62.11 | 26.26 | 1 |
| TGT | Target | Consumer Defensive | 61.49 | 22.70 | 1 |
| MCO | Moody's Corporation | Financial Services | 60.00 | 37.76 | 1 |
| MMM | 3M | Industrials | 56.56 | 10.88 | 1 |
| ECL | Ecolab Inc. | Basic Materials | 49.29 | 38.04 | 1 |
| CTAS | Cintas Corp | Industrials | 48.98 | 38.65 | 1 |
| ROP | Roper Technologies, Inc. | Industrials | 48.91 | 29.72 | 1 |
| USB | U.S. Bancorp | Financial Services | 48.65 | 6.86 | 1 |
| PH | Parker-Hannifin Corporation | Industrials | 43.71 | 16.55 | 1 |
| ABC | AmerisourceBergen Corporation | Healthcare | 35.33 | 15.27 | 1 |
| BK | Bank of New York Mellon Corporation | Financial Services | 33.73 | 10.82 | 1 |
| KR | Kroger Co | Consumer Defensive | 32.95 | 10.88 | 1 |
| AMP | Ameriprise Financial, Inc. | Financial Services | 32.63 | 11.85 | 1 |
| FAST | Fastenal Company | Industrials | 31.62 | 28.39 | 1 |
| CMI | Cummins Inc. | Industrials | 30.83 | 12.28 | 1 |
| PRU | Prudential Financial | Financial Services | 30.31 | 9.28 | 1 |
| WEC | WEC Energy Group, Inc. | Utilities | 27.47 | 20.35 | 1 |
| TROW | T. Rowe Price Group, Inc. | Financial Services | 24.91 | 15.67 | 1 |
| CHD | Church & Dwight Co. Inc. | Consumer Defensive | 22.91 | 56.17 | 1 |
| HRL | Hormel Foods Corporation | Consumer Defensive | 22.28 | 23.84 | 1 |
| IFF | International Flavors & Fragrances Inc. | Basic Materials | 20.42 | 16.89 | 1 |
| PFG | Principal Financial Group Inc. | Financial Services | 16.87 | 10.65 | 1 |
| NDSN | Nordson Corporation | Industrials | 12.95 | 24.86 | 1 |
| BEN | Franklin Resources, Inc. | Financial Services | 12.53 | 9.20 | 1 |
| AOS | AO Smith Corp. | Industrials | 10.29 | 20.67 | 1 |
| RHI | Robert Half International Inc. | Industrials | 7.53 | 12.39 | 1 |
| AIZ | Assurant Inc. | Financial Services | 6.56 | 12.42 | 1 |
| PRGO | Perrigo Company plc | Healthcare | 4.46 | 15.06 | 1 |