Qtrade Direct InvestingTM is a leading discount brokerage competing with the big Canadian banks. It ranks among Canada's best online brokers.
The platform offers a robust collection of investment products and accounts including stocks, MFs, options, ETFs, bonds, IPOs, and GICs, across TSX, CSE, TSXV, NYSE, NASDAQ, etc. It provides valuable insights like real-time quotes, stock screening tools, watchlists, market news, and portfolio analytics.
Qtrade is well-positioned to address the investors' demand for more innovative products to meet their short- and long-term investment goals. It's very simple to open an account on Qtrade for online trading.
All you need is your Social Insurance Number, a Government ID, and details of your income, assets, and net worth. You just need to create a profile, add money from your bank account and submit the application online.
Qtrade is popular with investors given its:
Low trading commissions
User-friendly platforms
Excellent customer service
Wide range of account types
Powerful insights and tools
A wide selection of investment options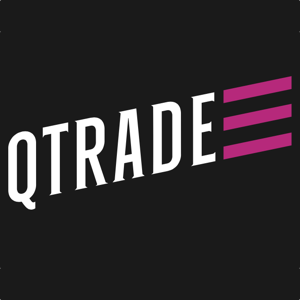 Qtrade
A very innovative trading platform for seasoned investors. Slightly cheaper than the banks and with many good features.
Qtrade Summary
Here is a summary to get you started, but there is a lot more information below if you want to get into the details.
Choosing a discount broker is a personal choice and the discount broker should satisfy your requirements.
| Hidden Sort | wdt_ID | Features | Qtrade | Comments |
| --- | --- | --- | --- | --- |
| 1 | 1 | Stock Transaction Fee | $8.75 | Represents 1% with a $1,000 trade. Cheapest is Questrade with just under $6 per trade. |
| 2 | 2 | ETF Transaction Fee | $8.75 or 100+ free ETFs | If ETFs is what you need, check their free ETFs first |
| 4 | 3 | Dual Currency Account | Yes, fees may apply per quarter | A must to build a growing portfolio. US holdings play a big role in my performance. |
| 6 | 4 | Synthetic DRIP | Yes | A must have with a dividend growth investing strategy. |
| 7 | 5 | DRIP Discount | No | A must for any dividend investor. |
| 8 | 8 | Access To Research | Yes | Most platforms are disappointing for research. Don't decide based on this factor. |
| 9 | 10 | Account Minimum | $0 | Start with any amount. |
| 10 | 11 | Accounts | Non-Registered; RRSP; TFSA; RESP; RRIF; LIF; LIRA; Corporate, & Non-personal | It's all of them. Can't ask for more. |
| 11 | 12 | Mobile App | Available | |
| 3 | 13 | Real-Time Quotes | Yes! | It starts once you have over $250K in assets |
| 5 | 14 | Norbert's Gambit | Yes | The BEST setup to exchange CAD to USD. |
Qtrade FAQ
Can I have the fees waived with Qtrade?
No indications that any of the transaction fees can be waived. You can have your trading fee lowered to $6.95 if you are an active trader or you hold more than half a million but that's still more than Questrade if fees are important to you
You can avoid the maintenance fee  ($25 per quarter) if any of the following apply: it is less than one quarter since account opening, you have $25,000 or more in assets, completed 2 commissioned trades in the last quarter, completed 8 commissioned trades in the last 12 months, set up a $100/mo recurring deposit, qualify for the Young Investor offer.
Another innovative approach by Qtrade is to offer young investors a better price of $7.75 per trade with no account minimum.
How do I deposit money into my Qtrade?
Electronic Funds Transfer (EFT) is the simplest way to transfer money into your Qtrade account from your banking account.
Alternatively, from your bank account or credit union, you can add money in the same way you would pay a bill.
How can I contact Qtrade customer support?
Trading Costs
The firm claims to charge competitive commissions. It charges just $8.75 for stock trades, no ECN fees, and provides 100+ commission-free ETFs.
It also has an Investor Plus program where it charges $6.95 for equity trades if the client makes 150 trades per quarter or maintains more than $500,000 in assets. Qtrade also offers a special program for young investors aged between 18-30 years at a $7.75 flat rate commission with no account minimum balance and no quarterly fee.
It also charges a 1% fee (minimum $45) on the sale or switch of all mutual funds held for less than 90 days. There are no trading commissions on buying and selling any of 100+ free ETFs from a pre-made list of selected ETFs.
Qtrade provides statements and confirmations, electronic funds transfer, DRIPs, LIF, RIF, and LRIF scheduled payments, and customer support free of cost. They also offer a trial program free for 30 days, in case you want to give it a try first. However, the trial account provides view-only functionality and does not allow trading.
Investing Account Details
Qtrade provides personal, corporate, and business accounts to its clients.
The registered accounts include RRSP, TFSA, RESP, RRIF, while non-registered accounts include cash and margin accounts. Cash, margin, TFSA, and RRSP are the most popular accounts on Qtrade.
Similar to other discount brokers, the Qtrade platform gives an option of trading in Canadian or U.S. dollars and there is no minimum deposit to begin trading in a Qtrade account.
Clients can place market, limit, or stop-loss orders with a minimum transaction fee of $8.75. The transaction fee of $8.75 beats all of the bank discount brokers except for CIBC Investor's Edge but it's still behind Questrade and Wealthsimple.
Qtrade offers detailed portfolio views to monitor and compare your performance. By far the most innovative graphical representation of a portfolio analysis. The snowflake visual is a great way to see the strengths and weaknesses of a portfolio.
Additionally, the portfolio simulator is another innovation not seen anywhere else and could help many investors assess the impact of their choices ahead of making them.
Investment Research
Qtrade provides insightful pricing analytics for testing new investment ideas using valuable tools including value analyzer and technical insights.
From what I can see, their approach is different from the others in that it's giving you new tools in addition to the usual research from Morningstar..
It does provide potential clients with a trial account to give the platform a test drive if you want more details.
Customer Service
Aside from their FAQ, you have to reach them by email, live chat, secure site message or the usual phone Monday to Friday.