While the markets show roller coaster patterns, my dividend income continues to show a steady upward trend. Remember, there are 2 factors that can increase my dividends; 1) the DRIP shares that provide more dividend, and 2) the dividend growth that can provide more dividend income to DRIP more. Both together create an amazing compounding machine.
What makes for a safe dividend stock? A solid blue-chip dividend stock will be rewarding investors with these 3 approaches:
Consistent dividend history
Consistent dividend growth history
Regular share buy-backs
As you can see, with a strong blue-chip dividend stocks, cutting the dividend is not the first action. It will usually happen in the reverse order I have listed above.
As you read through, you will noticed detailed graphs built from all the data I track to monitor and manage my portfolio. Just like an airplane pilot needs its instruments to navigate in the air, I need my investment data to manage my portfolio. Don't manage your portfolio blindly hoping for results, you'll be sorry later.
. Not that I believe it was a bargain but that it was valued appropriately. I am willing to add more if it goes down further. Remember that many stocks were over-valued over the previous 5 months prior to the corrections. Do note that some stocks have only pulled back to the 40% ratio of the 52-week range unlike oil stocks that are trading at the bottom of the range and making new lows.
I also added to JP Morgan-Chase as I felt the yield and P/E was valued. I am willing to add more if needed to build a larger position.
Otherwise, I took some profit in early March to be ready to pounce on opportunities as seen above. I still have some cash to deploy – just about $30K. With the screeners I use, I have noticed that many of the solid companies trading in the 40% range of the 52-week high are just simply valued now as opposed to be discounted. There was a discount window but it was really short.
At the moment, I like to us macrotrends to look at the historical P/E ratio as a starting point for valuation. It helps put today's stock price into perspective as you should remember we were making new highs for 5 months running until COVID-19.
Portfolio Management
I have made some adjustments to my reporting to break it down by Canadian or US investments. It present a different view on my detailed holdings.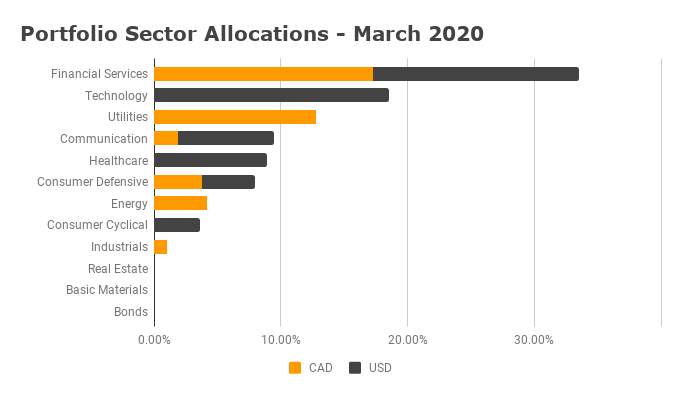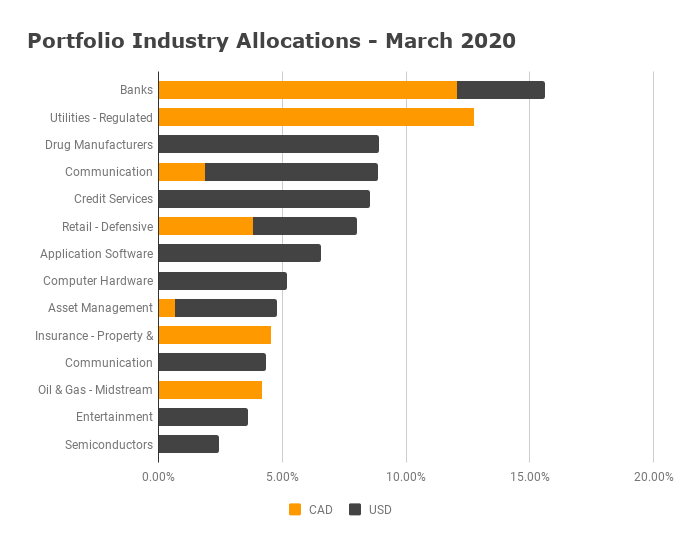 Dividend Income
My March 2020 dividend income is a high $2,482. The dividend keeps on coming and I am not worried about the payments for now. We would need to be in a prolonged state of emergency to see a negative impact and the dividend would probably not be my biggest worry.