Happy new year to everyone.
202 has definitely been challenging mentally as normal day-to-day habits were upended along with the challenges from being separated from friends and families. Moreover, some families have had hardship due to health impact. I sympathize with you all and I wish you a much better year ahead. Stay strong.
On the economic front, while all signs were pointing towards a recession prior to the pandemic, the arrival of the virus has certainly been a catalyst for many changes in the investing world.
I want to remind investors that while a pandemic is a one in a life time event, stock market crashes or pull backs are more prevalent. In fact, recessions are cyclical and that's why we classify sectors as cyclical and defensive due to their behaviours during recessions and market pullbacks.
See below for all the stock market pullbacks since 2009. You need to be ready for one at any point without sacrificing growth and that's why you need to know why you own a stock and do a portfolio stress-test.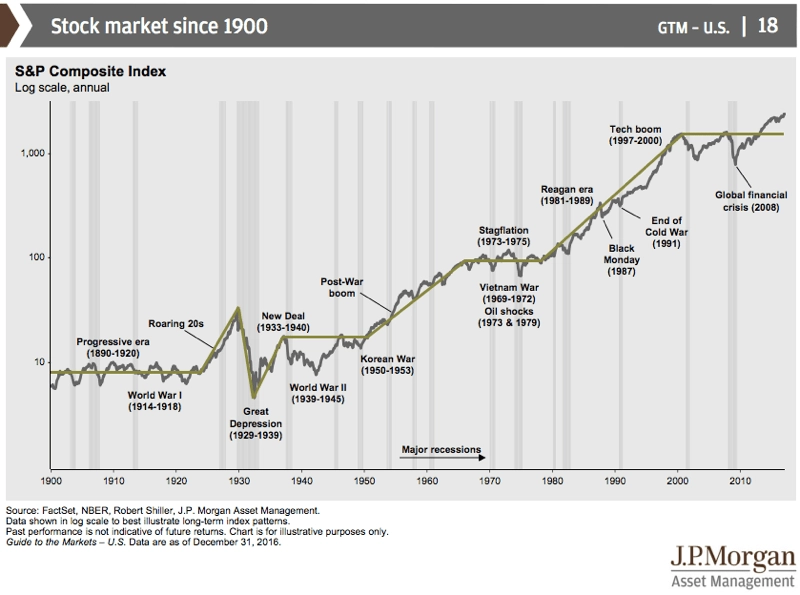 Here is a guide from JP Morgan Asset Management that puts 2020 in perspective over the last 30 years.
With all the signs pointing towards a recession ahead of March 2019 and the pandemic impacting economies around the world, the stock market reacted the way it always reacts. It pulls back in a moment of fear. Just look at how gold has behaved … It's not like we are going to pay for goods with gold.
What happens next is then dependent on businesses trading on the stock market. Remember that businesses on the stock market have the goal to provide a return to investors which is very different from the government.
Businesses issue shares as a way to finance activities and investors buy the shares with the expectation of a return. That's the basis of the stock market.
Here are a few trends that were accelerated:
Digital transformation for e-commerce was significantly accelerated for many businesses. Those ahead thrived in the environment.
Clean energy shift was noticed. Less cars on the road is a positive impact for CO2 emissions. Also, the fact that Tesla is worth the same as all the major manufacturers together and produces less cars is how investors are voting. GM had already decided when they were in financial trouble to shift to electric vehicles. Peak oil has been discussed for many years and 2020 may have been the year of peak oil.
Working from home impacted the REITs massively. While working from home is not new, many just did not have a choice and companies are now providing a new option that may not have been present before. I would say the shift for many is a matter of finances since they can live in a cheaper area than the expensive Toronto or Vancouver core. The situation is a catalyst to crazy expensive housing.
Even after the crash we had in March, the stock market went on to make new highs – what gives? Well, it's an average of all stocks and many businesses were able to stay relevant while others were probably on life support leading into the pandemic.
As an investors, if you have followed me, you know I had no REITs and I had no energy producers and I have no exposure to the travel industry. Even my Disney holding has nothing to do with travel anymore, it's a pure content streaming play from my point of view.
While the pandemic was a catalyst for stock market impact, aside from the travel industry, many of the underlying difficulties could have been in place already and not be as noticeable.
Consider index investing if your portfolio has not recovered and you are struggling making sense of it all. The money governments have printed will have a consequence later on and the low interest rate environment is shifting how retirees invest which is changing valuation of many companies.
Index investing can be a good option. My employment RRSP portfolio is indexed and does 9.5% annually whereas my dividend growth portfolio is just under 14% today.
Stock Trades
I made 2 very important decisions in December.
I don't need 5 years to switch my portfolio to income. I can easily do that in 1 quarter or 2 when the time comes. I know enough about dividend income stocks vs dividend growth stocks to shift my portfolio to income when the time comes. It's a mistake to think your portfolio should be the same from your 20's to your 60's, yet the financial industry doesn't seem to talk about that. It's all about bond ratios …
I decided to drop all my Brookfield holdings. Yup, you read that right. The darlings of Canadian stocks with

TSE:BAM.A

,

TSE:BIP.UN

, and

TSE:BIPC

are gone from my portfolio. I simply could not understand the valuation of

TSE:BIPC

compared with

TSE:BIP.UN

and in the end, I simply don't understand the company structure overall. Add to this all the other companies and it's really complicated. Since I always recommend to know and understand the companies you invest in and I cannot easily explain Brookfield, I decided to make money elsewhere.
With the funds I had, I purchased the following stocks which was mostly adding to existing holdings.
Apple
Visa
The Walt Disney Company
ISHARES NASDAQ 100 INDEX ETF CAD HEDGED
Twilio
Amazon
My 5% of millionaire makers is set now. I also drop all Enbridge from my RRSP account. It broke even after 10 years including DRIP shares and I don't need the income at the moment.
I also dropped all of my Cisco Systems Inc. as a failed 5G investment.
Overall, the impact is a lower expected annual dividend for 2021 today but I expect the dividend growth and new capital will bring me back up.
Portfolio Management
This is how my holdings are spread across the dividend yield and dividend growth now. To date, almost 55% of my holdings are in USD. The Canadian market has limited options that can easily be complemented with ETFs.
| wdt_ID | Dividend | None | Low Growth (< 6%) | Medium Growth (> 6%) | High Growth (> 10%) | Total |
| --- | --- | --- | --- | --- | --- | --- |
| 2 | None | 4.49 | 0.00 | 0.00 | 0.00 | 4.49 |
| 3 | Low Yield (< 2%) | 0.00 | 2.74 | 0.00 | 44.08 | 46.82 |
| 4 | Medium Yield (> 2%) | 0.00 | 0.00 | 7.92 | 5.76 | 13.68 |
| 5 | High Yield (> 4%) | 0.00 | 0.00 | 31.57 | 0.00 | 31.57 |
| 7 | Aggressive Yield (> 6%) | 0.00 | 3.45 | 0.00 | 0.00 | 3.45 |
Disney is the outlier and increasing my no dividend holdings. It used to pay a dividend semi-annually and it is suspended now. Since I have almost 5% in DIS, it bumps the no dividend grouping.
I don't expect Disney to pay a dividend until the parks are fully open and back to normal whenever that is.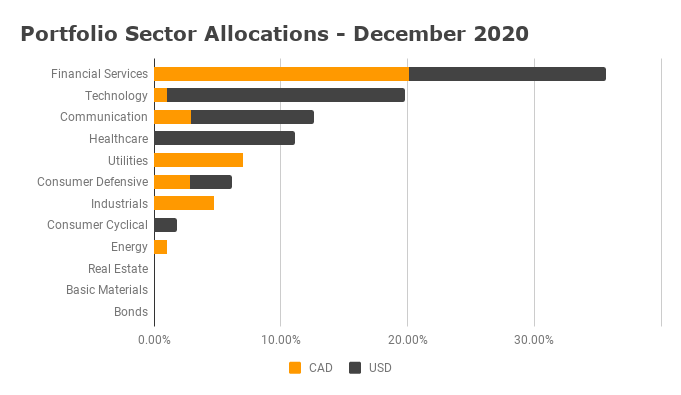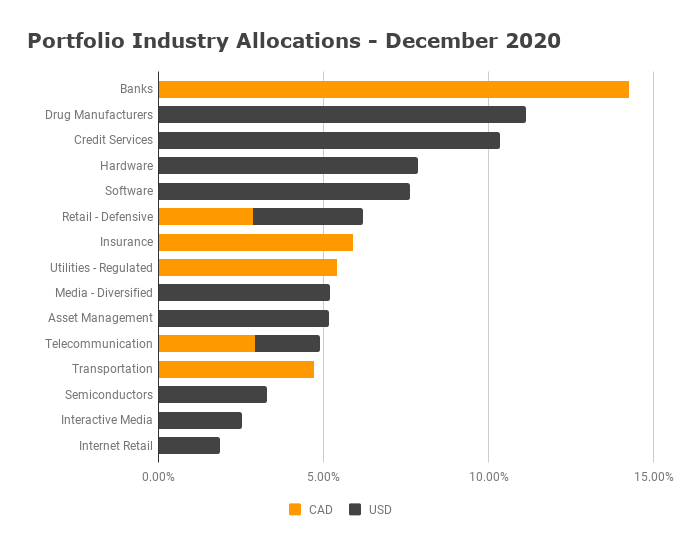 Dividend Income
My December 2020 dividend income was the benefit of a nice special dividend from Costco. The total amount is $3,534 with a $700 special dividend.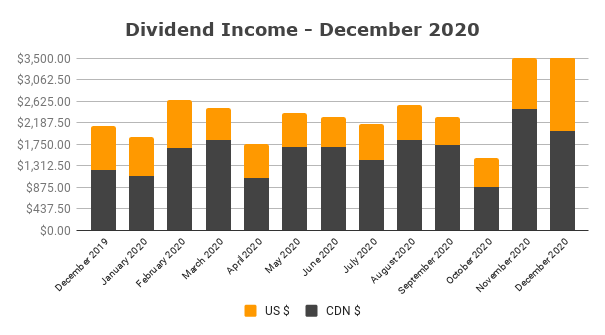 The annual dividend income is $29,059 which is a 22.29% increase over the previous year including all the dividend paid from new capital.