… and the roller coaster keeps on giving discounts !!!
I know, if you are like me, there isn't a fountain of cash around to take advantage of discounts but if you are diligent with your money, borrowing to invest for a couple of years can do well in a discounted market.
It's also an opportunity to swap into more discounted stocks when you have some holdings you aren't sure of.
I say, discounted markets aren't a time where you stick to allocations rules as you may limit your opportunities.
Discounted markets do not happen often, and don't last that long. I pretty much missed on the Covid market discount, and the last time I profited from a discounted market was 2009. And I borrowed money from my line of credit to invest then. No fancy Smith Manoeuvre, or anything like that. The interest is still tax deductible.
Now, when it comes to those retired, these markets can be stressful but you should you be able to ride it out with a cash wedge strategy.
Here are my rate of returns.
| Accounts | ROR | Yield |
| --- | --- | --- |
| Computershare | 6.30 | 6.94 |
| Portfolio | 11.06 | 2.11 |
| RBC | 7.04 | 4.97 |
| RBC-S | 0.00 | 8.24 |
| RRSP | 15.87 | 0.97 |
| RRSP-S | 8.65 | 0.85 |
| TFSA | 10.91 | 1.30 |
| TFSA-S | 13.64 | 2.51 |
| TSX | 0.70 | 0.00 |
The TSX above is the simulated index investing strategy based on XIC ETF.
Stock Trades
I finally made the spousal TFSA contribution in August and I added to Alimentation Couche-Tard.
Our spousal TFSA has tree holdings, with full contributions totalling $81,500.
HCAL – Hamilton Enhanced Canadian Bank ETF
My non-registered account generates a fair bit of dividends now since the account has a generous 4.43% yield now and I re-invested a couple months of dividend in Great West Life.
This insurance company is just trading really too low to pass on. This is not a dividend growth play, it's a pure dividend income investment.
Portfolio Management
While I do track my sector allocation, the industry exposure is what I look at. For more on sector diversification, read my thinking on it here.
It should be telling what my exposure to the Canadian market really is, and it's invested in 10 stocks. Yes, 10 Canadian dividend stocks make up my portfolio.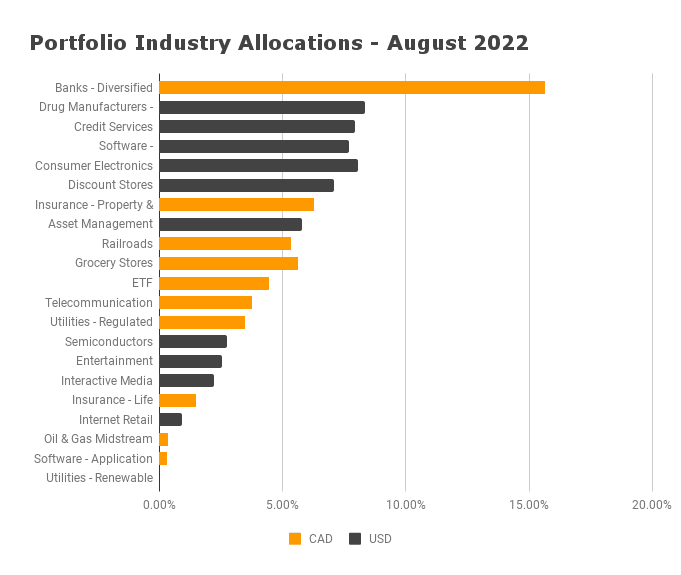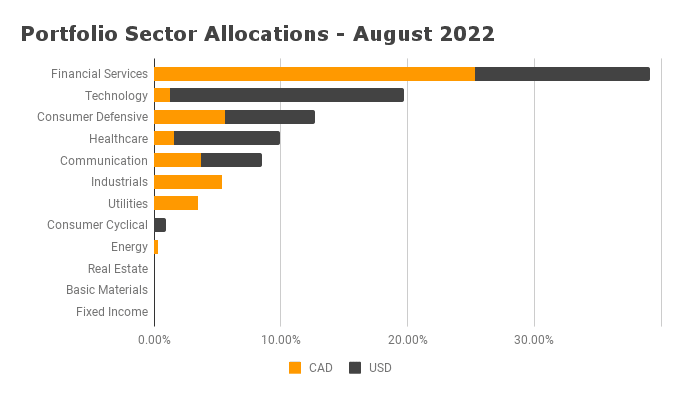 Dividend Income
My Augst 2022 dividend income is $4,545.
Don't spend time balancing your monthly income. It should not matter as you should have a year or two in cash as a safety net.
If you live from your actual monthly income, you either have a large portfolio that generates more than you need, or you have a solid system as RRSP withdrawals need to be planned.
There was a small window of time when I had a retirement portfolio when I started where I thought I should balanced my monthly income but I learned differently.