It's quite the stock market we are in … Many stocks have recovered and anxiety has diminished but yet we still have record job losses and companies not wanting to issue forecast. It's a "Drunk Stock Market".
Valuation is not in line with growth and happy recovery has fuelled new highs. In short, the shift in the way we consume has made some stocks go up and challenging others. In some cases, the solid stocks are doing better and the weak stocks are doing worst.
As you read through, you will noticed detailed graphs built from all the data I track to monitor and manage my portfolio. Just like an airplane pilot needs its instruments to navigate in the air, I need my investment data to manage my portfolio. Don't manage your portfolio blindly hoping for results, you'll be sorry later.
position. My play is on the subscription and the brands in the long term. It will be rocky until there is a vaccine. I increased my position into
Brookfield Asset Management
. They will pounce on opportunities with beaten down companies. Same deal with
Alimentation Couche-Tard
. Another company with strong acquisition skills. Last but not least, I added to the ever boring
Royal Bank
.
Portfolio Management
The below ratios should show you what Canadian sector and industry I favor. It's pretty simple and I don't sweat it. I used to take profits from my winner and support other holdings but I have decided against that now. With indexing, that concept works well since indexes are a basket of stocks but with individual stocks, we rarely have all stocks equal in quality. As such, I decided to not trim my quality stocks anymore and let them ride.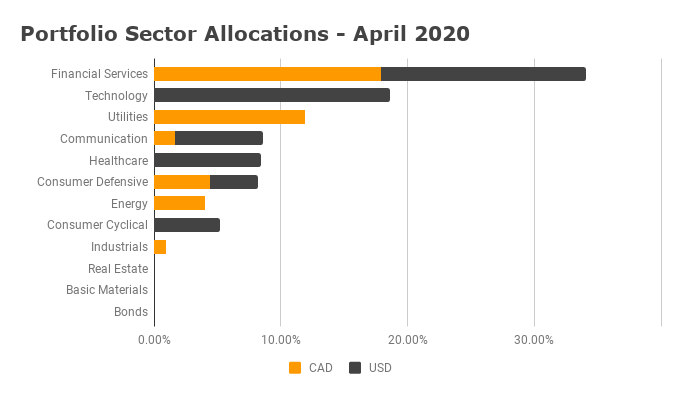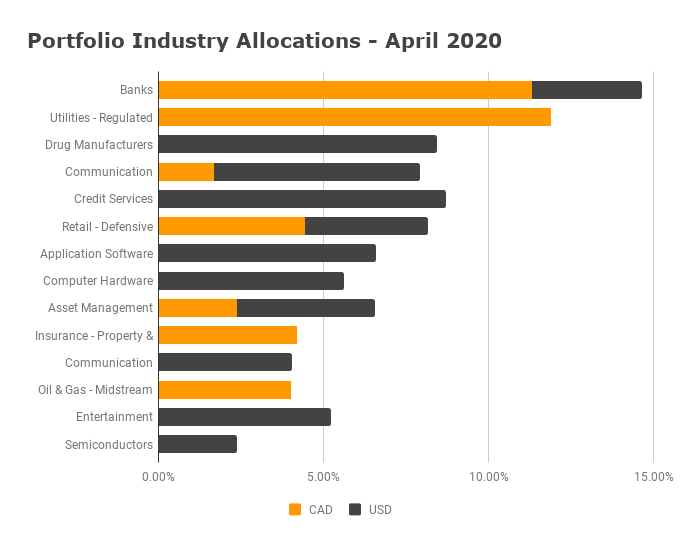 Dividend Income
Nothing exciting about my April 2020 dividend income, just another month passing by. I earn, $1,755 in dividend income. Disney is my only holding suspending dividends for now. It makes sense since there is no traffic to the theme parks.