Passive income is sought by many but only a few truly reach real passive income. Do not worry, it's not out of reach. My passive income is approaching $20K per year and it's growing at a 17% annual rate. It's not a side income or a business income, it's a true passive income. It is generating and growing money while I sleep – just as advertised. There are zero employees and zero people working for me to generate this passive income. You'll see, there is a very simple strategy to get going and follow. Even my children have passive income. If they can do it, so can you.
On big caveat is that passive income is often used to describe many possible revenue streams and unfortunately, many of those income streams require a large amount of active work to generate passive income. Don't be fooled by the so-called passive income strategies advertised for a quick buck. Nothing is quick.
My passive income strategy is not quick, you will need patience, but it works! My 18 years-old daughter is already generating $180 in passive income annually. Best of all, I am not selling you anything and the strategy is right at your fingertips.
In the following paragraphs, you will learn what a true effortless passive income strategy is and how you can grow it in a compounding manner. I will also debunk some of the so-called passive income ideas often touted online. Trust me, I know the difference between working full-time (active income), have a side online business (active income) and then generate true passive income (keep on reading).
Passive Income vs Entrepreneurship
Before we cover the ultimate passive income strategy, let's review what passive income really is about with a good definition from Investopedia.
What is Passive Income? – Passive income is earnings derived from a rental property, limited partnership or other enterprise in which a person is not actively involved. As with active income, passive income is usually taxable. However, it is often treated differently by the Internal Revenue Service (IRS). Portfolio income is considered passive income by some analysts, so dividends and interest would therefore be considered passive.
These days, passive income is often loosely used to include revenue from online business but I have to disagree. While someone may start a blog out of passion and start monetizing it by simply throwing ads in it or pushing affiliate products, the passion quickly turns into a venture followed by a small business with part-time VAs (virtual assistant) or outsourcers to create content and visual assets.
These individuals are more entrepreneurs building a business from a hobby than building a passive income machine. In the eye of the government, as defined above, you are generating active income through a business for the purpose of income taxes. Here is how Investopedia defines it.
What is an Entrepreneur? – An entrepreneur is an individual who, rather than working as an employee, founds and runs a small business, assuming all the risks and rewards of the venture. The entrepreneur is commonly seen as an innovator, a source of new ideas, goods, services and business/or procedures.
Be clear about wanting to generate passive income or becoming an entrepreneur. The two are separate and represent different goals with a different investment of time. There are many passive income ideas on the internet that are entrepreneurship ventures rather than passive income, and it's also possible to do both. Online businesses or physical businesses have the same initial sweat equity requirements to become successful.
Debunking Passive Income Myths
Let's qualify all of the so-called passive income strategies against the actual passive income strategies. You will see that not many passive income strategies exist and that many are actually entrepreneurial ideas to generate an additional revenue stream. I went through the first page of Google with the "Passive Income" search and read all of the 7, 9, 17, 21, 25, 30, 31, 43 passive income ideas and organized them below.
All of those articles are pushing an affiliate product around one of the ideas. Even "Smart Passive Income" by Pat Flynn started with passive income in mind but ended up with an entrepreneurial online business. Pat has staffs and expenses to generate the income he generates. It's a business, not a passive income. Yes, the website runs without him but the marketing to sell needs to happen. If he was to stop paying attention, the income would dwindle over time. His YouTube videos or Podcasts are not created by an AI either – lots of active time is spent on the business.
Here is a summary of the 24 strategies circulating the web by categories (as per the definitions above). Most of the top search you will find provides a regurgitation of the same strategies, sometimes with a varied take but rarely is the amount of effort required listed – read further down to see how I identify the effort and cost involved.
Grouping the 24 income strategies leads us to the following 3 lists.
Passive Income
Dividend Income
Rental Income
High Yield Savings
Peer-to-Peer Lending
Robo-Advisor
REITs
Silent Partner
Entrepreneurship
Online Site
YouTube Channel
Podcast
eBook Publishing
eCourse Publishing
Physical Book
Freelance Content
Ridesharing
Vending Machine
Laundromat
Batting Cage
Side Income Hacks
Research Studies
Advertise on Your Car
Rent a Room
Rent Your Stuff
Cash Back Credit Cards
One Proven Passive Income Strategy
The proven strategy is simple. Very simple in fact. It's all about generating dividend income from investments. It's also known as investment income or retirement income. The end goal is to provide financial independence at any age by receiving a recurring income not tied to time.
I find it surprising that it's not the most talked about passive income strategy but I guess it has to do with making a quick buck unfortunately … The dividend income strategy is a long game that will pay off over time as you will see below compared to the quick entrepreneurship income which can go from $0 to $1,000,000 in 2 to 5 years if you are successful and put the time in it. That's where you can see the difference between passive and active income.
The beauty with dividend income as your passive income is that it kills two birds with one stone. You get to focus on generating passive income to increase your financial freedom and you get to focus on building wealth for your retirement. Both financial freedom and retirement converge to allow you to enjoy your time as you wish.
Passive Income Case Study
Even with a good job to pay the bills and save, sky is not the limit as you are probably aware. My salary is fixed with some potential for increases and promotions. I do not make more money while I sleep with my day job but I do with my dividend income.
I took dividend investing seriously back in 2009 and started tracking all the details since 2010. You can read the monthly details but overall you can see the growth below and you can see the forecasted growth if I maintain the saving rate.
I will admit having been interested in rental income but the outlay to get started was just too high but also another great passive income option.
Proven Dividend Income Strategy – The Adult Case Study
Dividend income comes from dividend stocks and the rate of income is defined by the dividend yield. The dividend growth, or passive income growth, is driven from three sources:
Dividend Growth – A 10% dividend growth means you get a 10% pay raise
DRIP – Reinvest the dividend for compound growth. Einstein called it the 8th wonder of the world.
Invest More – Save and invest more from your job or entrepreneurial ventures
When all three sources are at work, you get the results below. Up until 2013, dividend growth was not part of the strategy but I made changes and it supercharged my passive income from 2014 onward.

Proven Dividend Income Strategy – The Children Case Study
If the adult case study did not impress you, here is how children can start their passive income. Below is the dividend income for an 18 years old. The investments started at 12 years old and slowly grew over time with dividend growth and new investments. The growth is exponential, thanks to fractional shares with Computershare. When fractional shares are at play, all the pennies are at work all day and night. At this age, all you need to do is pick a boring dividend growth blue-chip stock and let it ride.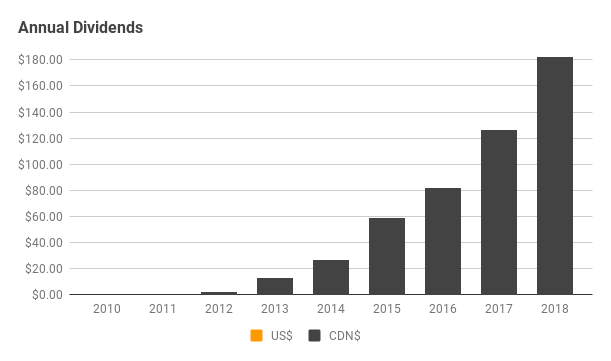 Start Your Passive Income Now
Starting earning dividend income is actually pretty simple and investments do not have to be scary. In fact, any of the passive income or entrepreneurship ideas will require some learning.
You can start investing in two ways:
Selecting your first stock should be to pick a boring dividend growth blue-chip stocks. Think of a company that we cannot live without, has a long history of paying dividends and grows their dividends. An easy starting point is the S&P500 Dividend Aristocrats or the TSX Dividend Aristocrats. Investing is as simple as buying shares regularly. Computershare supports automated purchasing or you can do it yourself once per quarter.
The approach is as simple as this:
Start Early
Start Small
Stay invested
Invest Regularly
Dividend income is a long game and not a get rich quick scheme. As you can see below, in the long term, stocks go up with bumps along the way. If you buy regularly into a solid company, you average your purchases and with the regular DRIP (dividend re-invested), you also grow your investment and compound the growth.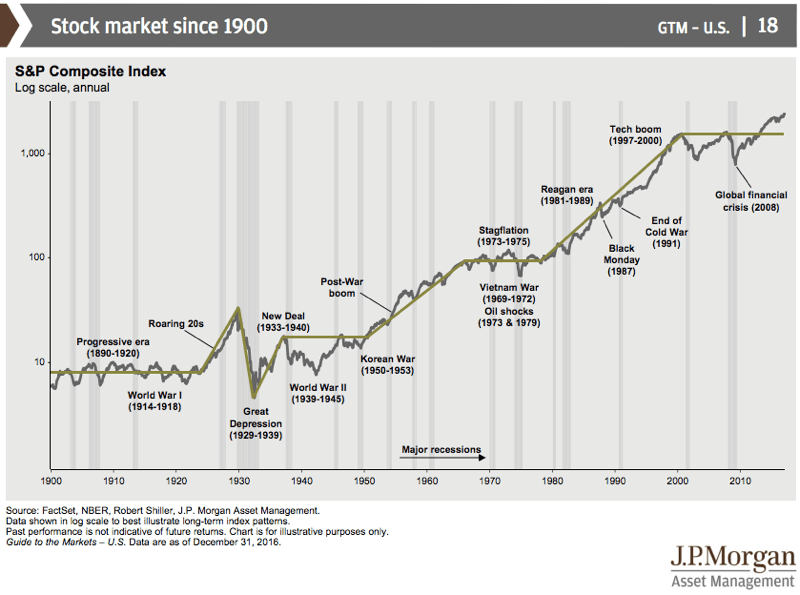 24 Income Generation Ideas
If dividend income is really not your cup of tea, there are some other true passive income strategies or you can become an entrepreneur – that is also viable. Here are some details on the effort and investment you would need.
Passive Income
Dividend Income // Small Effort // Cost $
A simple and boring approach to generate income and build a retirement portfolio.
Rental Income // Medium Effort // Cost $$$
Also a proven passive income strategy but not for everyone. You need to be comfortable with debt and managing cash flow from tenants.
High Yield Savings // Small Effort // Cost $
These days, high yield savings account do not pay much. It's better than nothing but it won't keep up with inflation so your money loses purchasing power.
Peer-to-Peer Lending // Small Effort // Cost $
There no options I am aware of in Canada but it's possible in the US. You take on the risk as a lender but the payout can be higher.
Robo-Advisor // Small Effort // Cost $
This investing approach is akin to dividend investing but with a lower dividend payout in general. It's more focused on total return appreciation.
REITs // Small Effort // Cost $
Real Estate investing without investing in real assets. It's the cheaper way to get started and it can pay well but the
tax implication
is slightly different than dividend income.
Silent Partner // Medium Effort // Cost $$$
This approach requires a large amount of capital and trust in the partners. Generally, it requires experience in the particular ventures.
Entrepreneurship Income
Online Site // Large Effort // Cost $
This site is an example of an online business. After 10 years, it doesn't generate more than my dividend income. The per hour pay would be in the single digit if I was to calculate it. Many get lured by the promises to earn a
6 digit or 7 digit income
but only a few succeed. The reality is that you will put a lot of sweat equity.
YouTube Channel // Large Effort // Cost $
Make money from advertisement by creating videos. Not an easy task to have your videos show up in the YouTube search.
Podcasting // Large Effort // Cost $
Make money from advertisement by creating podcasts. A lot less competition but still not easy to compete with all the big brands. Podcasting is often another way to generate traffic to sell existing products or affiliates.
eBook Publishing // Medium Effort // Cost $
Amazon has made this easy. If you have a good book, you can earn some good income and move into prints. However, if you don't have a decent book, the income will drop quickly and you are back writing another book and then another.
eCourse Publishing // Medium Effort // Cost $
Teachable is making this easy. It's a blend of video and PowerPoint through a subscription access. A very good format but you still need to advertise the course somehow, back to an Online site to create a brand.
Physical Book // Medium Effort // Cost $
A print book can have long lasting royalties, especially if you have success with the book. Some people have used
crowd funding
to get some initial funds to write a book and then found a way to have it printed and shipped without a publisher.
Freelance Content // Large Effort // Cost $
It's all about your skills and what service you can offer. Depending on your skills, you can probably ask for a premium fee. I have used the services from
99designs
to have art generated for this site.
Ridesharing // Large Effort // Cost $$$
Another source of revenue where your earnings are limited by the number of hours you can work. Having taken Uber in the past, there is a 12 hour limit on the number of hours one can drive. You obviously need a car and if you want higher earnings, you need a luxury car.
Vending Machine // Medium Effort // Cost $$$
I saw this and thought it was an interesting venture. It's probably closer to a passive income venture than others but there is a lot of work to find placement and negotiating deals.
Laundromat // Medium Effort // Cost $$$
Very close to a passive income venture since you can have the washers and dryers in place and generate income for you. Even better if you own the building with the rentals, that's a double income!
Batting Cage // Medium Effort // Cost $$$
Another creative idea. If you can have it working without an employees, that would be golden. Add the vending machines to it while you are at it.
Side Income Hacks
Research Studies // Small Effort // Cost $
Not a long term strategy to generate some income. At some point, you may not be eligible anymore…
Advertise on Your Car // Small Effort // Cost $
I do not know how much it pays … I am curious if it's worth it.
Rent a Room // Small Effort // Cost $
Airbnb has allowed many to generate some income from their house when away. Others have turned real estate investments into unauthorized hotel to generate more income than rentals. It's definitely one of the more popular strategies.
Rent Your Stuff // Medium Effort // Cost $$
A tough one… Do you use craigslist to rent your stuff? Advertise at the mailbox?What sort of contract do you do?
Cash Back Credit Cards // Small Effort // Cost $
I cannot believe this makes it in a passive income idea … I saw it on multiple posts too. Travel, Rewards or Cash Back are the same thing and are simply incentives to choose a card to use. Want more cash back? You got to spend more … I think that's the dumbest passive income idea and the most inappropriate idea for websites trying to teach about finances.