Looking for 5G stocks to profit from? The first thought that comes to mind with 5G for an investor is where can I make money?
First, let me tell you that while 5G is not fully deployed, the winners and losers in the infrastructure have already been chosen. The dust has settled and the telecom infrastructure companies are already at work with some deployment of the technology in place. 5G phones are already here with the iPhone 12 for example.
Second, the race to 5G is more for the phone companies to bring customers away from the competition and no so much about the benefit of 5G today. In fact, the benefits are probably all around vehicle autonomy and TaaS (Transportation-as-as-Service).
While the technology for the cellular networks is settled for most countries, the application is where you can look to make money now and that's a lot more difficult to understand.
What is 5G?
I'll keep it short as there are plenty of articles describing the power of 5G like the one by ericsson but in short, it's the 5th generation of cellular networking.
Why is it a game changer? Simply said, it's the speed of the data transmission. Movies download in seconds for example. Automation around urban centers can happen more easily and open up opportunities.
5G Stocks & Opportunities
There are a number of areas you can invest in. Starting with the obvious ones and then the not so obvious.
A number of industries are outlined below but we are now at the roll out point where the application of 5G is the next step.
How can I make money with 5G? It's a tough one to pin point as large mega software companies are already at work and small startup companies will try to make an impact and disrupt the old ways.
Which application will disrupt and provide more efficiency in our day-to-day life is the big question you need to answer.
With countries and governments focusing on sustainable energy and reducing our environmental impact, transportation efficiency is probably at the core of the innovations that will drive world wide demand – also known as TaaS or Transport-as-a-Service. Covid-19 has shown the positive impact on the environment with less vehicles on the road.
5G Networking & Carriers
On the networking hardware side, ericsson, Nokia and Huawei have been the leading this market. With national security concerns around Huawei raised by the US and supported by other countries, most of the infrastructure is now focusing on Nokia and ericsson.
The telecoms tend to be companies local to each countries for regulations purposes and that means looking at the Canadian telecom landscape for Canadians.
There are 3 major players with BCE, Rogers Communications, and Telus setting up the network infrastructure.
So far, 5G has not given an edge to any of the carriers and I don't see that changing either. It's really just about keeping up with the market conditions and it's also a major expense for the telecoms.
I short, you can invest normally in the best Canadian telecom and know subscribers will keep on paying.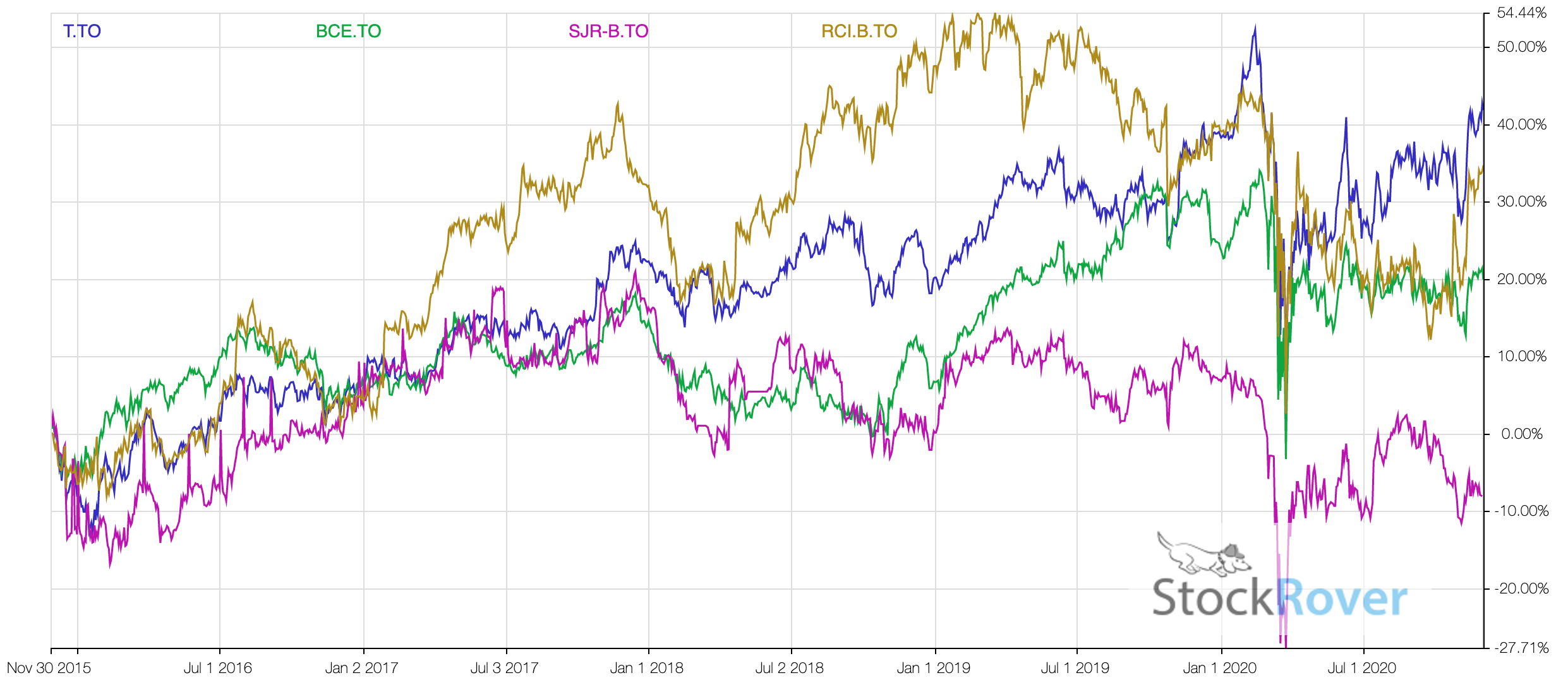 Real estate investment trusts like Crown Castle and American Tower that operate and lease shared wireless infrastructure in the U.S. are also poised to benefit from the increasing demand for towers, small cells and fiber assets related to 5G activity.
The REITs' infrastructure assets work seamlessly to increase capacity and support the fast speeds and increased bandwidth that new technologies like 5G require. They are the providers of cell towers and other network infrastructure to carriers like Verizon Communications Inc., AT&T, T-Mobile and Sprint.
Chip Makers for 5G
One area that 5G opens up is data transfer and communication between devices (vehicles on the road, or drones for example) which means it needs chips for processing the various information.
Many chipmakers sell into the 5G network market. Qualcomm is the supplier of chips for Apple's 5G iPhones for example. The company recently launched Snapdragon 750G for 5G devices.
Qorvo and Skyworks also make chips for smartphones. Other leading chipmakers are Marvell Technology, Broadcom, Intel Corporation, Texas Instrument, Xilinx, and Analog Devices who stand to gain from the ongoing rollout of the fifth generation of wireless communications.
Intel Corporation has gotten involved in the vehicle autonomy space but there are many other applications requiring specialized chips that could come into play and those could be coming from Nvidia.
A lot of it will come down to data and image processing applications and technology.
5G Applications
This space is unclear as the demand is not quite there yet and the services and not ready to see a benefit. It's more about imagining the future.
Next, think of a supply chain that can get better with more automated touch points. Have you ordered something online, going through the checkout, paying for it and only to be told the item is sold out after the fact? Frustrating, isn't it? 5G could improve that.
A more efficient transport network and navigation based on traffic congestions for the most optimal route is another example.
The opportunities will create new businesses and will see that more established businesses also acquire new comers into the space.
5G Canadian Stocks Options
Aside from the 3 major Canadian telecoms that build infrastructures, as pointed above, you are looking for software companies.
The following software company is possibly positioned to take advantage of some offerings through its subsidiaries in the various industries but as an evolution as opposed to a revolutionary impact.
Constellation Software
Constellation Software is known for developing market-leading solutions to address the specific needs of clients in particular industries.
Constellation caters to a diversified group of industries ranging from advertising and marketing, asset management, automotive, aviation, communications, compliance to construction, education, healthcare, hospitality, legal, logistics, industrial distribution, mining, and oil and gas, real estate brokers and agents.
The company has a presence in both public and private sectors and serves businesses focusing on government and government-related customers, and commercial customers. Constellation is well-positioned to sell a combination of software, maintenance, professional services, and hardware to its customers and hence enjoys sticky customer relationships.
Key Investment Data