The banks are finally seeing some resistance in their business. Many of the top Canadian banks did not report good earnings and that's just the way it goes. Is it panic time? Not at all. Could be an opportunity to buy more but if you are having difficulty with the pull back, it's time to stress-test your portfolio. Emotions are your worst enemy!
Stock Trades
Only one trade made this month to add to my Alimentation Couche-Tard position which has reach a 4.06% ($37,850) of my portfolio size. Otherwise, it's just the regular DRIPs from my dividends.I have sizeable positions in a number of companies and the DRIPs can buy back 3 to 6 shares. That's free profit from compounding dividends!!!
There is a dilema of whether you should let your stocks DRIP or simply invest the dividends yourself. I tried both and I am not one to know what prices to buy a stock or identify if the price is a good value or not. I have put all accounts on automatic DRIP and my winners will continuously win. When I was choosing where to deploy my dividends collected, I rarely put it back on the winners and one analysis I have found from my Computershare holdings is that the DRIP program, over time, actually does really help with the annual performance.
Remember, in my performance calculation, a DRIP share is free. It cost me $0 to acquire that share. The assigned purchase price is for tax purposes only. For performance comparison, you need to remove taxes since it's all different anyways.
A full position for my portfolio is when the stock reaches 5% of my portfolio weight. If it goes above 5.5%, I will consider taking profits.
Portfolio Management
Sector ratios are easy to capture and understand but I have realized that they are too broad. Since I started reviewing my industry allocation, you can see that I am still pretty well diversified and it looks a lot better than what the sector allocation is presenting.
Most of my stocks are involved in subscriptions or recurring revenue as you could see from my portfolio. Money comes in like clockwork for those businesses and clients are reliant on the business for the most part.
I STILL HAVE NO REITS !!! If you are not retired and needing the income from a REIT, ask yourself if it really helps your portfolio growth. Run the numbers; the yield is only one part of the equation. See the Chowder Rule on an approximate growth estimations.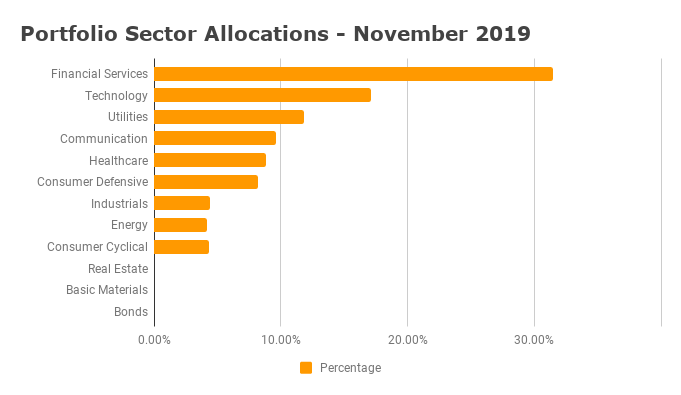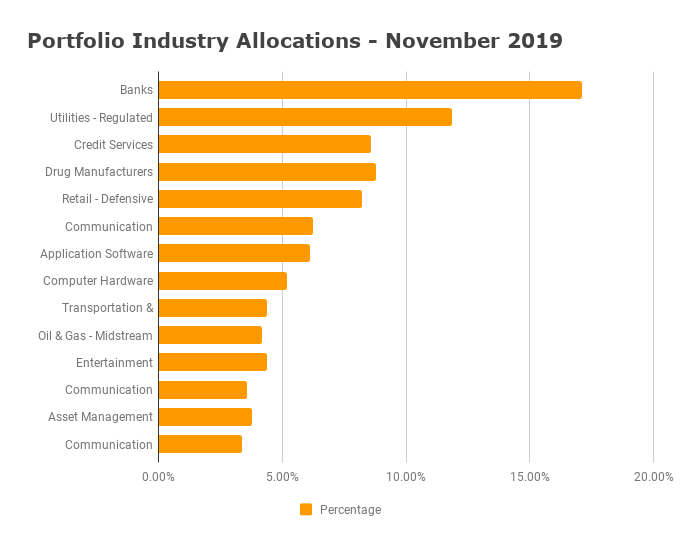 Dividend Income
My November 2019 dividend income is $2,635. It's a record month at at this time of year, I start setting up my 2020 tracking and forecast my future dividends. I am on track to earn $24,499 in dividends for 2019 and 2020 already has a $1,427 increase for a minimum total of $25,927.
Note: I keep a 1 to 1 currency conversion with my US dividend income. It all goes back into US stocks.