Markets have dropped a number of times now but we need to understand that the markets were also peaking a little. The growth seen in the past 6 months could not continue on that trajectory. When markets are over-valued, a catalyst is sometimes needed to bring it back to norms. We got that but much more with the corona virus and the oil price war. We went from over-valued, to normal valuation, to bear markets now that many stocks hit new 52-week lows.
With the market frenzy, my portfolio is back to October numbers. I really just lost the insane increase we saw these past 5 months (see below). I have not sold any stocks and I have not bought any yet. I feel the markets just got closer to normal valuations and we are starting to see some bargains pop up. I just started tracking historical as I have money across multiple accounts and it's nice to see the historical view.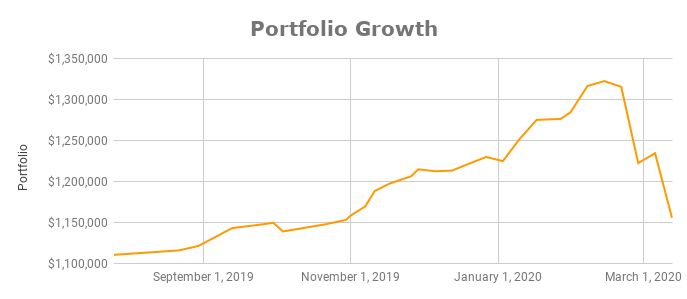 As a reminder, just when you think stability in the markets come around, world events happen and shift the pendulum. The reality is, there aren't any stability ever. Stability can last 2 or 3 months but that's just about it when it comes to world events and you should not focus on playing those events for a long term portfolio. Yes, there can be money to be made if you do short term trading but a long term dividend growth investing strategy will succeed regardless of those events.
As you read through, you will noticed detailed graphs built from all the data I track to monitor and manage my portfolio. Just like an airplane pilot needs its instruments to navigate in the air, I need my investment data to manage my portfolio. Don't manage your portfolio blindly hoping for results, you'll be sorry later.
. Unfortunately, same DRIP cost as December 2019.
I have some cash waiting in my RRSP account and will probably make a trade in the coming weeks.
Portfolio Management
I think the drop in prices is an opportunity to buy solid income stocks these days. As they enter oversold territory, it means you can get the yield and the appreciation when they bounce back. There is a small window of opportunity with income stocks and I am not talking about the insane high yield oil stocks here, I am talking about the banks as an example. I am staying away from oil stocks for the records, I do not like the oil environment in Canada and the competition around the world.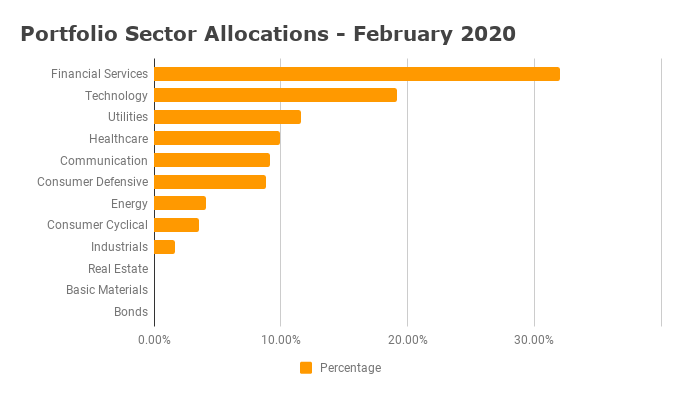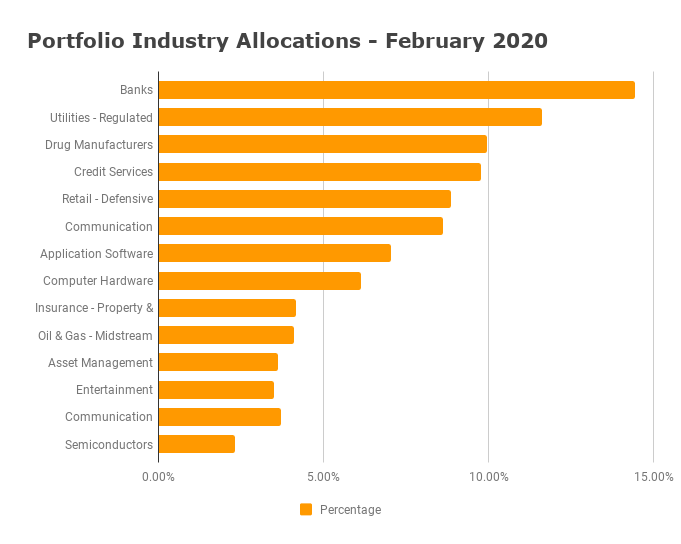 Dividend Income
My February 2020 dividend income is a high $2,662 – it's a new high. My monthly dividend income is definitely not balanced and that's not a problem. Balancing monthly income should not be a goal as you should have a cash waterfall approach where the dividend income (if used for retirement) should fill next year's income or the following year to be safe.