Investing in credit card stocks is essentially investing in a fintech oligopoly. There are very few players and they control the majority of the market. The credit card companies control the online economy and are moving the money all around the world through technology.
Other fintech services such as PayPal, Square, or Stripe, to name a few, are rising and they all connect to a credit card to execute a transaction.
We are moving to a cashless society and credit cards offer the ultimate in consumer convenience. They allow customers to quickly purchase items and delay payment until they are ready to pay at a later date. In most cases, the risk of default is associated with the financial institution and not the credit card company.
The credit card company is mostly just a toll booth where it retains a percentage of the transaction.
Credit Card Stocks
Here is the summary of the top 3 major credit card companies. They are not big dividend payers but you'll see that they all have a decent growth pattern below.
See the Google Trend on each of the companies as an indication of exposure. Do note it is not a reflection of revenue or the number of cards issues. It rather provides an insight of the brand awareness.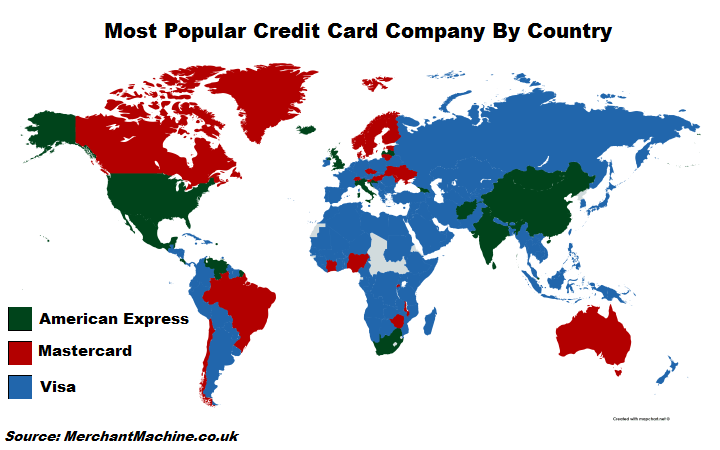 If Visa, MasterCard and American Express are good enough for Warren Buffett's portfolio, it should be good enough for you!
1. VISA
Visa Inc. is a global payments technology company providing electronic payment solutions to its clients worldwide. It is one of the largest retail electronic funds transfer networks used globally.
Visa provides transaction processing services through its global processing platform, VisaNet, payment products, and other value-added services to its clients. In addition, the company has adopted new digital payment and security technologies, such as contactless and tokenization.
The company has a presence in more than 200 countries and territories worldwide. More than 188 billion global transactions are processed through VisaNet each year. VisaNet is Visa Inc.'s reliable and secure processing system, which has supported the company's growth across the world.
Key Investment Data
Ticker:

NYSE:V

Sector: Financial Services
Industry: Credit Services
Market Cap: 510.70B
Market Cap Group: Mega Cap
P/E: 30.68
Dividend Yield: 0.82%
2. MasterCard
Mastercard is a leading global payments solutions company facilitating electronic funds transactions throughout the world. The company engages in authorizing, clearing and settling payment transactions and delivering related products and services.
Mastercard caters to the needs of diversified customers ranging from individual consumers, merchants to governments, public sector and businesses, etc. Mastercard also provides customized business payment solutions for corporations by tailoring its core products for various corporate applications.
In addition, the company also provides other value-added services such as information and analytics services, consulting, loyalty and reward points, etc. Mastercard has a presence in more than 210 countries and territories facilitating both domestic and cross-border transactions across multiple payments flows.
Key Investment Data
Ticker:

NYSE:MA

Sector: Financial Services
Industry: Credit Services
Market Cap: 386.83B
Market Cap Group: Mega Cap
P/E: 35.92
Dividend Yield: 0.55%
3. American Express
American Express is a globally integrated payments company. The company engages in the processing and settling of card transactions. As a leading global services company, American Express operates an end-to-end, integrated payments platform known for its world-class brand and services.
The American Express brand has been consistently rated as one of the most valuable brands in the world, characterized by a large global footprint, a diversified customer base, and a differentiated business model. American Express's reportable operating segments are Global consumer services group, Global commercial services, and Global merchant and network services.
The bank's principal products and services include charge and credit card products and travel-related services. Its business travel services are offered through American Express Global business travel JV. American Express's network of distribution channels is large and integrated, consisting of third-party vendors, business partners, in-house sales teams, and applications and emails.
Key Investment Data
Ticker:

NYSE:AXP

Sector: Financial Services
Industry: Credit Services
Market Cap: 119.82B
Market Cap Group: Large Cap
P/E: 15.43
Dividend Yield: 1.46%
Bottom Line on Credit Card Stocks
Just like we invest in utilities to profit from our demand on energy, we could invest in credit card companies to profit from our payment behaviour evolution. Think about it, how many purchases have you done with a credit card compared with a bank card or cash?
The incentives are all there to use the credit card with all the point systems. I have a total of 3 credit cards in my wallet at all time. Each for its own purpose (and I ALWAYS pay them in full).
Credit card companies are relatively new companies when you compare them with Coca-Cola or Johnson & Johnson so it will take time before we see them on S&P500 Dividend Aristocrat list but they are worth paying attention to.
The business of credit cards companies is a number's business based on the number of clients they can acquire around the world. Once acquired, it behaves like a subscription for the credit card company where recurring revenue is flowing in. Managing and curating the revenue is what the companies focus on.
I currently (at the time of writing) own both Visa and Master Card. As you have seen above in the stock performance graph, they outperform American Express and I expect them to continue to do so. See my portfolio for a detailed list of my holdings.
I have relied on the Chowder Score to drive my decision on which holding to buy. Visa was a clear winner when I first initiated a position and recently MasterCard is leading with the dividend growth. My opinion is that you would do well with either and I prefer them over Amex in the end.